Shopping Cart
Your Cart is Empty
There was an error with PayPal
Click here to try again
Thank you for your business!
You should be receiving an order confirmation from Paypal shortly.
Exit Shopping Cart
Gateway Counselling and Therapy Leicester
Safe Professional Counselling and Therapy in Leicester
| | |
| --- | --- |
| Posted on August 27, 2013 at 12:03 PM | |
This week someone directed me to a new Facebook page (Yes, I love Facebook and I'm not ashamed to admit it) that gives people the opportunity to tell their stories, particularly about self-harm. 
The stories are heart-breaking and heart-warming at the same time. It is horrendous the loneliness and isolation many young people feel (and they are mostly young people on this FB page at least); but most of the stories so far are encouraging in their endings, or at least in the continuing of their journey.
This is one such story (unedited):
Right basically this is my story,it all began in year 9, I lost my grandad and became very depressed and starting cutting to turn emotional pain into physical pain,but then I realised doing that wasnt going to bring him back,so i started to cry myself too sleep every night with the same image in my head,my grandad six feet under,it didnt seem really,then i stoped being depressed and took my mind off things and started hanging with my mates&having laughs ,that went well for about a year then im the middle of year ten i lost everybody because if a silly little argument,and everyone was threatening to kill me and beat me up i had people wait outside school for me and i was so scared and had no one to turn to,so i started to cut again,but this time even worse,and then it all died down abit and then i started getting grief on bbm from girls saying 'kill your self no ones wants you here,go with your grandad where you belong' and other things like 'your a fat slag,you have no one kill yourself already ffs' and that really got to me,so i started cutting my legs and my arms really bad, i even got to the point of actually wanting to kill myself i couldnt handle it anymore,i felt worthless,i had no one. No one at all,i had to look over my shoulder in fear everyday,its horrible..i got into councilling and caf meetings to help me and help take my mind of things and it actually works,yes i still get crap now and again,but thanks to my caf meetings its help me alot,so all i do is raise my middle and hold my head up high,no matter what anyone does or say,yes i find it hard to hold my feelings in,but because of the help im getting it eases my stress,i no longer self harm or get really depressed,i just write my day down in a book and thats ittt:) thanks for reading my story i hope it helps alot of people..xx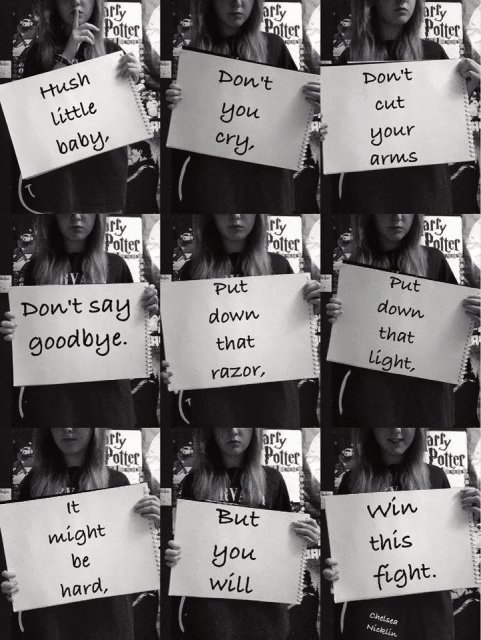 I know a couple of people who have self harmed, and in fact considered it myself when I was in my teens (that seems so long ago).




Some people self harm because they feel so worthless, because something or someone has made them feel so worthless, that they don't even care about themselves.




Others may self harm because it is the only way they feel something. Without it they don't think they can really feel anything important.




And yet others still may self harm because something bad happened to them or to someone they love and they don't know any other way to cope with those feelings




Sometimes it is a complex combination of all sorts of deep reasons




And I'm sure there are even more reasons.




What I personally believe is that young people don't just self harm for attention. It is usually, if not always, more complicated and more painful than that.




Regards;

Garry x




The Facebook Link, by the way, is 




Categories: Self Harm Depression Anxiety Personal Stories

0

/