Shopping Cart
Your Cart is Empty
There was an error with PayPal
Click here to try again
Thank you for your business!
You should be receiving an order confirmation from Paypal shortly.
Exit Shopping Cart
Gateway Counselling and Therapy Leicester
Safe Professional Counselling and Therapy in Leicester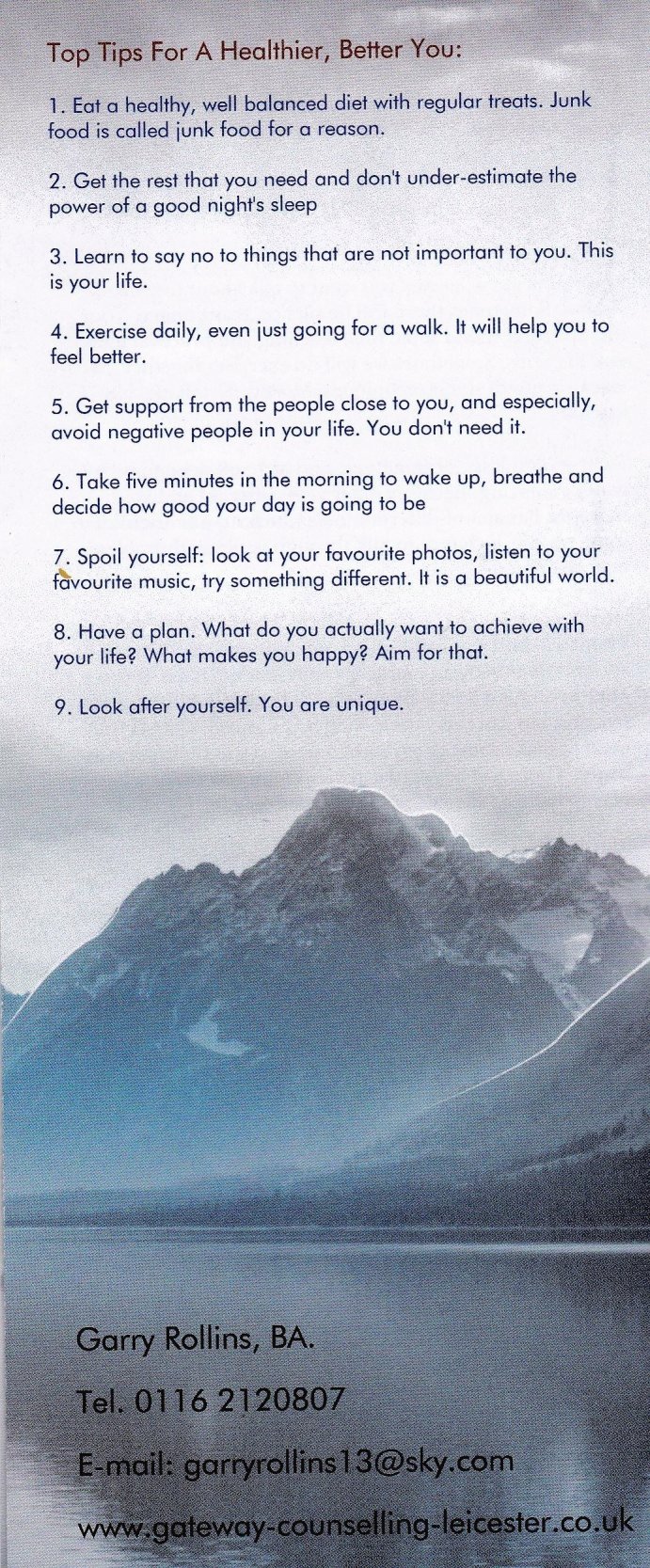 If you live in the Leicester area (England) and think you or someone you know would benefit from counselling then please do get in touch.
www.gateway-counselling-leicester.co.uk
Tel. 0116 2120807
So what kind of issues to people seek help for:
Anxiety, Panic Attacks, Phobia's
Stress, either at work or at home
Relationship Issues (not just marriage)
Feeling stuck in unhelpful habits, moods, behaviours
Eating problems and body or self image issues
Depression, low moods, suicidal thoughts
Oppressive or Intimidating Relationships
Bereavement. Grief, or any kind of loss
Unresolved Childhood Issues
Self Harm or Other Addictive Behaviours
Seeking Help Is Not A Sign Of Weakness
It Is A Sign That, Very Often, We Have Tried To Be Too Strong For Too Long.
If you or someone you know would benefit from counselling, then please do get in touch or encourage them to get in touch.
The picture above is the back page of my brochure. If you would like a brochure or several brochures for yourself or your workplace, contact me. 
A Personal Reflection
"I get angry when I read drug manufacturer's definitions of depression and see drab commercials that burst with color as soon as the meds are introduced. Feeling sad, overwhelmed, hopeless, sleeping a lot… 
as long as we hold onto the definitions that are fed to us as truth without exploring them we can never see anything more than that. If it were that simple, maybe popping pills would help. But it is their very definition that blinds us to the truth of discovering what depression is. 
We feel like they really know us, with their simple definitions. We read each symptom on the checklist and say "Yes! that is exactly how I feel!". Upon further examination, you have to admit that this is only part of the picture. 
People are in so much pain, so desperate for immediate relief, needing someone to understand us in the worst way, that reading these simple sentences, seals the deal. We do not question if it is deeper than that, we believe that we can pop a pill and then all those symptoms will disappear. If it were that simple, why are more and more medications failing more and more people?  
According to the Abilify website, 2 out of 3 people taking an antidepressant still experienced unresolved symptoms of depression!
I have taken the typical definitions of depression and injected a little bit of deeper truth.
Depression is:
A suppressed level of functioning. At this level of functioning there is no hope that we will ever fulfill our dreams or become the people the voices in our heart tell us we are.
Inability to connect the dots between where you are to where you want to be. Mindlessly repeating patterns of thought and behavior that are not positive and do not get us to where we want to go.
Feeling "different" than others, and not in a good way. This comes from a skewed perspective on life and the world. This stems from our beliefs about ourselves and our perceived limitations. Our external environment is a direct reflection of our mental state of affairs.
Crying frequently/ feeling emotional pain- without clarity as to what that pain is all about. Because there is no clarity, there can be no outlet or resolution. Often unconsciously, we still see our experiences through the eyes of our childhood. When consciously we examine these things with our adult minds, we realize that they are much different than we have processed them. When we see truly reality, we can make sense of it, grieve and be angry if we need to, and then let it go.
Excessive fatigue and sleeping- to avoid the pain of life. This is our mind trying to protect itself from things it can't handle. Sleeping because of depression is dying without the commitment. I didn't kill myself, but I avoided life and all the things that are too painful for me in it (mentally or in circumstance), by sleeping. By examining the multitudes of reasons we find life's situations so painful, we can shed light on them and begin to heal.
Feeling overwhelmed and hopeless- inability to effectively clear up emotional pain and dysfunction. Our minds combine all of our past experiences as if it were a blender. The thick murky soup that results is how we define ourselves, how we react, how we embrace the future. It is this murky soup and our inability to sort through it that causes hopelessness and the feeling of being completely overwhelmed.
Less interest in activities- because we are carrying too much emotional weight and in too much pain (it is quite possible to be in complete emotional agony without even realizing it). Dysfunction comes from destructive methods of reacting to situations. Things that at surface value should be enjoyable are painful because of how we are processing them under the surface. Often our means of processing is not entirely conscious and so we must dig deeply to figure out why we are having this reaction.
Thoughts or attempts at suicide. Depression is unbearable, and the life it creates is hell. Feeling suicidal is not really about wanting to die. It is about wanting to be free. Free from pain. Because most people do not receive the help and support that they need, they do not realize they can have this freedom in their life, and so they sadly conclude that they must die to achieve it.
All of these symptoms are the things circling under the surface of the depression. It is all a vicious cycle, all of these symptoms feed each other and create more depression until the point where we lose all hope. 
Medication promises to treat these symptoms, but will never heal anything. What we need to do is dig below the surface, find the roots and work to dissolve them. As a result, all of the surface symptoms disappear. 
The more I think about how much medication I was on, and how strong all of the symptoms still were, the more I realize how amazing my mind truly is. It never stopped telling me, no matter how medicated, that something is really wrong under the surface. It didn't give up, until I listened to it. 

Feeling suicidal is not really about wanting to die. It is about wanting to be free."
Padhia Avocado.
/