Shopping Cart
Your Cart is Empty
There was an error with PayPal
Click here to try again
Thank you for your business!
You should be receiving an order confirmation from Paypal shortly.
Exit Shopping Cart
Gateway Counselling and Therapy Leicester
Safe Professional Counselling and Therapy in Leicester
The Hype over Fifty Shades of Grey has been incredible, and the popularity seems to be through the roof, especially with women. It is seen as romantic. There are tales of peoples sex lives suddenly taking off with renewed vigour. A tale of bondage seems to have highlighted a new sexuality. Harmless. Nothing wrong with it. What's the harm?
The more I look into it, the more certain I am as a therapist, a man, a human being and a husband that Fifty Shades is not romantic, but is a very accurate account of emotional manipulation, one sided control and domestic abuse bordering on psychopathic.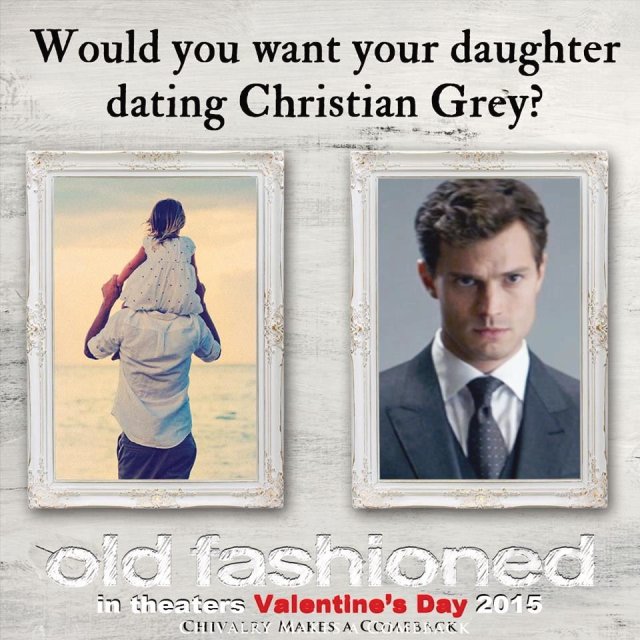 This is quite a long post, so I urge you to read it to the end, because it is not really about just Fifty Shades, it deals with emotional manipulation and abuse of which Fifty Shades is practically a 'how to' manual for potential or real abusers. Read it, learn, and stay away from the Christian Grey's, however they are packaged. And if you still think Christian is romantic by the end of the post I wish you a safe journey.
Christian Grey is rich, successful, charming (kind of), well dressed, confidant, assertive, and of course incredibly handsome. Anastasia Steele is an innocent, just approaching graduation, beautiful, romantic. She wants what many want, a romantic relationship with someone who meets their needs and has a certain level of respect for them as a person. 
In Chapter Two of the first book Christian turns up at her workplace, uninvited and unannounced, and is immediately possessive when he sees her talking with a male colleague. His mood changes instantly, leaving Anastasia believing that she had done something wrong. "Damn, have I offended him?" she asks herself. And its only Chapter Two. 
On their very first coffee date Christian quickly establishes who is actually in complete control of this relationship. He continues to call her Anastasia, but forbids her to call him by his first name. (Warning signs anyone?). He even tells her "you should find me intimidating."
Christian warns Anastasia to stay away from him. This is classic abuser stuff. By appearing vulnerable, or having their best interests at heart, the 'victim' feels sorry for them, convinces themselves that they can 'rescue' the poor soul, or that they will be the one to make a difference. And above all, when they become an actual victim the abuser can turn around and say 'it's your own fault. Remember, I warned you to stay away.' Also, having warned her to 'stay away' he send her some very expensive gifts. Some see romance. I see manipulation and very confusing messages.
In Chapter Four Anastasia goes drinking with friends and gets drunk. She calls Christian, and despite refusing to tell him where she is, and then hanging up, He turns up at the bar. That's right, after only one date, he has a tracking device in her phone. Christian Grey is a Stalker. Seriously, if someone you know puts a tracking device in Your mobile and tracks your every move and tries to tell you it's because they love you and want to protect you ... how soon after that are you going to go to the police? Romantic? Sexy? Caring? Protective?  Sorry, but No.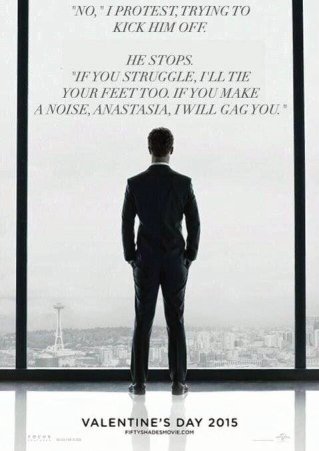 And then he takes her to His hotel (not to her home, and yes, He does know where she lives). He takes her, drunk, to his hotel room and she wakes up in Christians bed the following morning and worries about whether they have had sex or not. On this occasion, to be fair, he reassures her that they haven't had sex, but still, an incredibly dangerous position to be in. And its only chapter five. What a roller coaster.
Then we see the next glimpse of Christians true colours. And I quote "If you were mine, you wouldn't be able to sit down for a week after the stunt you pulled yesterday." Yes, that's right. He threatens to spank her so hard she wouldn't be able to sit down. For going out with friends and getting drunk. I have heard people saying that he is just being playful, that this is sexy, the stuff of fantasies. Maybe it is. Maybe it isn't. But would you tolerate someone threatening you like that after, let's remember, one date. And then he takes her home and she suddenly realises he knows where she lives and she knows she hasn't given him her address. (Remember the tracker in her phone). But it's ok, because he cares. I don't think so.
Now, I realise that some people reading this may think I am being too picky. It's just entertainment, stop taking it so seriously. But I urge you to remember that when you take away the rich lifestyle, charm, cool gadgets, expensive presents and good looks, you are left with the worst nightmare of many many victims of emotional abuse, control and manipulation. So, here's a question - does his lifestyle, money and looks make it ok or romantic to, so far, stalk her, track her mobile phone, control her and emotionally manipulate her? When does it become wrong?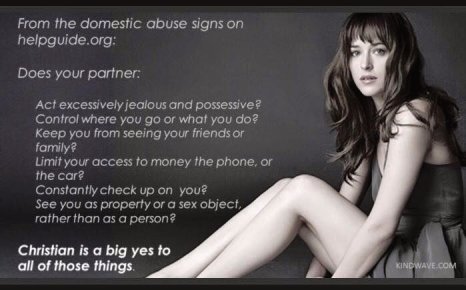 And the next point is a killer. In Chapter Six they start discussing a sexual relationship, and Christian Grey tells her that before they can have any kind of sexual relationship, she has to sign a non disclosure contract agreeing not to speak to anyone, including her own family, about what happens between them. Danger signs anyone?
As the conversations go on, it becomes very clear that this relationship is all about meeting his needs and her needs are irrelevant, seriously irrelevant. She asks what she gets out of the relationship ( a good question) and he responds with 'Me'. He then bombards her with what he wants out of the relationship, and when she tells him she's a virgin he refers to taking her virginity as simply "a means to an end". 
And when he does take her virginity, he has no regard at all for her needs. He is not gentle or reassuring. Don't forget, this is all about him. "I'm going to fuck you now ... hard". He "rips through her virginity" and tells her "I want you to be sore". Yeah, he's a real gentleman who obviously cares about her. 

Still keeping up with the signs of an abusive partner :
Turns up at your workplace and is moody when you talk to other males
Tells you he is not safe, so it's your fault when he turns out to not be safe
Puts a tracker in your mobile phone so he knows where you are at all times
Tells you that you cant use his first name, but he can call you whatever he wants
Tells you to stay away and then buys you expensive presents
Takes you to his hotel room when you are drunk instead of taking you home
Puts you in his bed, leaving you uncertain about whether you have been raped
Wants you to agree to not tell anyone about what happens in your relationship
Takes your virginity hard and delights in making you sore, not meeting your needs
After having taken her virginity he reminds her (showing his true colours more and more as they go) "Every time you move tomorrow I want you to be reminded that I've been here. Only me. You are mine." Take note of those last words. YOU ARE MINE. Do I even have to comment on this point. Maybe just a simple question ... who do you belong to? Your partner? Someone else? To yourself? Abusers genuinely believe their partner belongs to them. They own them. And they make sure their partner knows it as well. That's why they don't like their partner talking to other men or women. In Chapter Ten he becomes very angry that she is actually speaking on the phone to a male friend (Jose) who has phoned her. Creepy yet? Just in case you're not sure, he adds "I don't like to share, Miss Steele. Remember that."  I doubt he is going to let her forget it.
Despite all of this Anastasia is thinking about whether to sign the contract. He has been pestering her to sign it "so that we can stop all this ... you defying me." And then he starts sending her presents and nice emails again. Now please do take note of this (especially if you are wondering whether you are a victim of emotional abuse). Abusers are not horrible all of the time. Just when you are thinking they are abusive or you should run, they do something nice and you think they have changed, or that it's your fault. In the midst of all her doubts she suddenly becomes excited again. Here is the romantic Christian back again. Please Please Please, do not be fooled. This is emotional manipulation at its best and worst. They get angry and frighten you, then they do something nice and you wonder why you ever thought there was anything wrong. This is known as the Cycle of Abuse. My own father was an expert at it, and we all walked on eggshells trying not to get on his bad side. There is an important sign right there.
And then we have the Rape. 
Oh, you probably didn't see it that when when you read the book. Surely you would have noticed Anastasia being raped. Anastasia writes Christian an e-mail saying she doesn't want to continue the relationship. She has too many doubts. So he turns up again at her house, quite the intimidating figure, and Anastasia tries to convince him it was a joke (even though it obviously wasn't), while looking around her own bedroom for a means of escape. (Later he admits to her that he didn't think it was a joke and had sex with her to try and change her mind ... yes, he is a class act). But back to the moment ... 
In Chapter Twelve, he turns up uninvited, and she clearly tells him, in her bedroom that she doesn't want sex, she just wants to talk. "No, I protest, kicking him off". His reply? Ironically some of the most famous words in this 'romantic book' ... "If you struggle, I'll tie your feet too. If you make a noise, Anastasia, I will gag you. Keep quiet. Katherine (her mother I think) is probably outside listening right now." He then has sex with her. 
Does anyone not get how this works? Anastasia doesn't think it's rape, because once they have sex she enjoyed it. What about you? Another one of those pesky questions ... when is rape rape? Anastasia said no. He threatened to tie her feet and gag her. But it's ok because she enjoyed it afterwards? I don't know what else to say about this. I'm not happy.
Chapter 13. Unlucky for some. Anastasia has a dinner date with Christian in a private dining area. She clearly says she would prefer somewhere more public as she would feel safer. He says "Do you think that would stop me." He is actually telling her that she wouldn't be safe from him even in public. This is all about him. None of it is about her concerns, her safety, respect for what she is going through. And doesn't this sound even slightly threatening? "Do you think that would stop me?"
She tells him she needs space to think. No, that's just not going to work for Christian. Space to think is the last thing he wants her to have. So he turns up at her graduation ceremony (to be fair he is the invited speaker). But does he stay away from her. No. Of course he doesn't. He grabs her by the elbow, forces her into a locker room, actually locks the door, and demands to know why she hasn't been returning his emails. Still think Christian is romantic?
In Chapter 16 Christian starts to talk about his own abused childhood. Now this is tricky territory, because, like many readers and like Anastasia, I want to be sympathetic and understanding to someone who has been abused. But Christian is being manipulative here, as many abusers are. The absolutely crucial point here is this ... abused children are traumatised, damaged in ways that should not have happened, but they have choices as adults. If they go on to abuse (physically, emotionally and or sexually) their abused childhood is not and cannot be an excuse for their abusive behaviour. Bottom Line. No exceptions.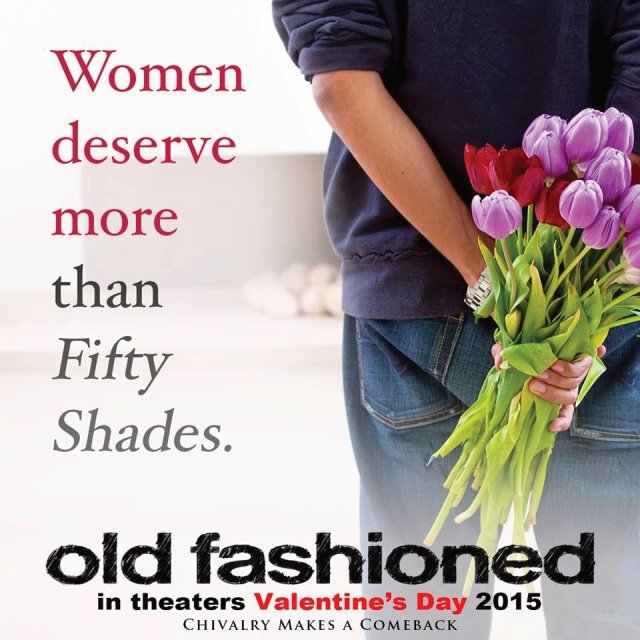 As you may have guessed, this is a strong and emotional point for me. I was badly abused as a child (as was my whole family in one way or another by my father). I was twelve the first time I went to the train tracks and thought about jumping, thirteen years old when I decided to live. I made my choices, one of the main ones was to be nothing like my father. It wasn't easy. I was angry. Later, I was depressed. Now, many many years later, I work with disabled kids, I am happily married, a foster carer, a Christian, and a Therapist. Being abused does not and never can be an excuse to abuse others.
But then we get the BDSM scenes. Anastasia has been spanked, and she has mixed reactions to it. Part of her feels aroused, and part of her feels abused (yes, she uses those actual words). The BDSM community have a lot to say about this, mostly, that BDSM is not about one partner (the Dominant) gaining pleasure at the exclusion of or by abusing the other (The Submissive). BDSM relationships are seen by that community as mutually respectful and supportive, especially of the submissive. If a Sub was to have concerns about feeling abused, a good Dominant would take time to address those concerns, back off, establish new ground rules. This is not an area where I have any expertise, but that sounds about right to me. The BDSM community certainly seem to think so. 
Which is why they are outraged by Fifty Shades. Anastasia's feelings and needs are manipulated, ignored, oppressed (even though she doesn't always feel oppressed). What does Christian do? He tells her that it is her problem and she needs to find ways to deal with it. "That's what a good submissive would do" he says. And she believes Him and reassures Him. She tells him that if she wanted out she could have run away to Alaska (a place almost as cold as Mr Grey, my observation, not the book). Here is his rather chilling reply :
"For the record, you stood beside me, knowing what I was going to do.  You didn't at any time ask me to stop - you didn't use either safe word.  You are an adult - you have choices.  Quite frankly, I'm looking forward to the next time my palm is ringing with pain.  You're obviously not listening to the right part of your body.  Alaska is very cold and no place to run.  I would find you.  I can track your cell phone - remember?"  
Still think anything about this is romantic?
What about Chapter 18 :
"Yes, but it won't be to hurt you.  I don't want to punish you right now.  If you'd caught me yesterday evening, well that would have been a different story..."
Threatening much? Physical Abuse (or threats of)? Because she forgot to call him.
And then, as if this isn't enough, they go to have dinner with her parents. An ideal setting you might think. But Christian uses the occasion to try and get his own sexual needs met by humiliating her. Now before you try and think of this as romantic, try and imagine what you would think, say or do if a man tried to get you to do this at your parents meal : Christian tries to masturbate Anastasia under the table where her parents are eating. She stops him. He isn't at all happy about that. Remember, as far as he is concerned, her body belongs to him to do whatever he wants with. 
So he drags her off to a boathouse where they have sex. She actually pleads with him (yes, 'pleads' is in the book) not to hurt her. Because she wouldn't let him masturbate her while her parents were at the same table. She pleads with him not to hurt her. This is his response :
"It's for me, not you, do you understand?  Don't come or I'll spank you... Don't touch yourself.  I want you frustrated.  That's what you do to me by not talking to me; by denying me what's mine." 
Anyone still think this is not an abusive, manipulative and controlling relationship. Don't worry, there's more. Anastasia decides she needs to get away "to think clearly", over two thousand miles away in fact, to go and spend time with her mother. Does he give her the space she needs? What do you think? He turns up at the bar where Anastasia and her mother are having a drink (remember the tracker in the mobile phone, never stops being useful, does it?). Anastasia finds it sweet and passionate (as the reader is also supposed to think). I don't think so.
It goes on and on and on, but this post doesn't. If I haven't made my point by now (and it's not even the end of book one), well, you and I will have to agree to disagree.
But if this rings a lot of bells with you, if you are in an abusive relationship of any kind, and feel trapped, seriously, get help, find support. Do not ever believe it is your fault. And if you need counselling or therapy, well you know where I am.
Fifty Shades of Grey is Not Romantic, It is A Manual For Emotional, Physical and Sexual Abuse.
Instead of spending £10 going to see the film, why don't you donate £10 to the nearest Woman's Shelter or Refuge.
Regards
Garry Rollins
WHY WE SECRETLY LOVE TO HATE
Wouldn't it be fantastic if you woke up one morning to find all your problems with your partner had disappeared? Instead of arguing, criticising or ignoring each other, you could just get on with being happy together.
Relationship theory has been dominated by the premise that when we fight, it is because we lack the skills or insight required to resolve conflict. But what if it's not that we don't know how to get along – we just don't want to?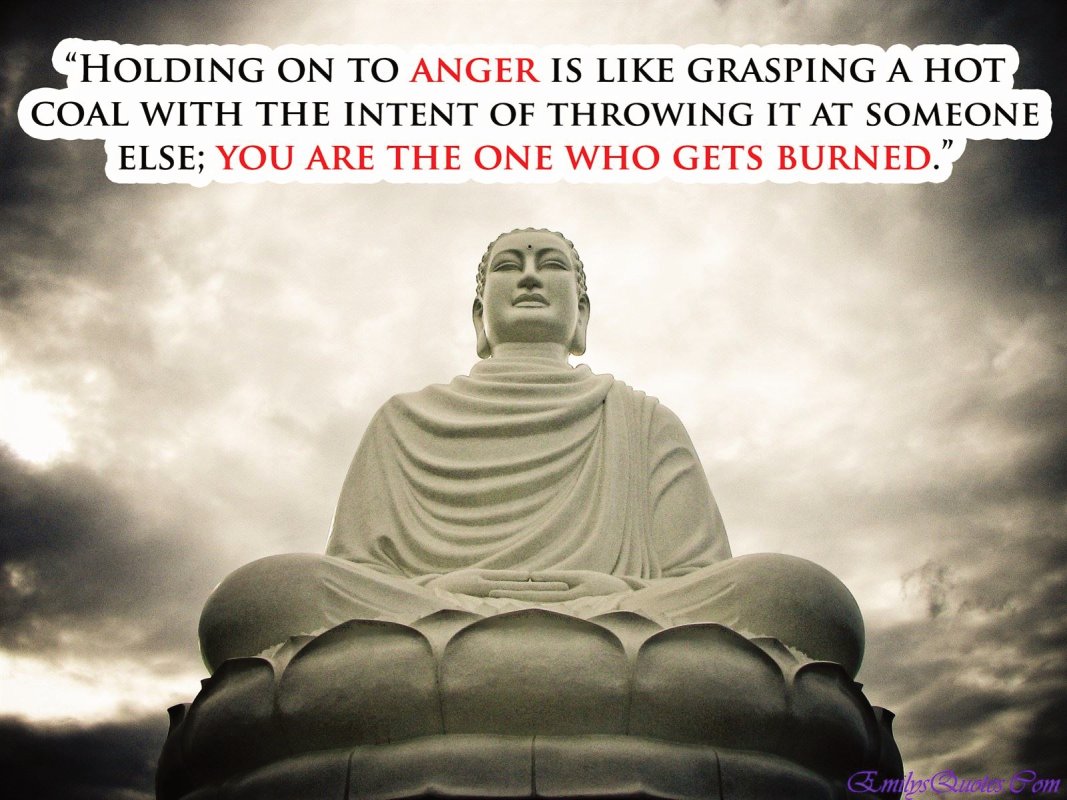 This is the view of 
Dr David Burns
, psychiatrist and author of 
Feeling Good Together
. 
'Many couples I counsel aren't interested in change,' he claims. 'They're more interested in bashing each other's heads in.' The reason, he says, is that our ego competes with our ability to live harmoniously.
Think of someone you don't get along with. Now imagine you can press a button to transform your interaction into a close, caring and supportive friendship. Fancy it? Not many people do.'Sometimes we just don't want to get close to the person we're at odds with,' says Burns. 
He gives his own example of a hostile colleague: 'A close relationship with him is the last thing I want. What I need is for him to admit how self-centred he is.' He believes this 'joy in hostility' is rooted in the animal side of human nature we seek to suppress.
In order to improve our relationships, we have to focus on changing ourselves – not the other person. 'You are 100 per cent of the problem, just as they are,' says Burns. 'The moment you change, the other person will change too. You can't not change someone else: everything you say and do impacts on the behaviour of those around you. 
Ultimately, you need to ask yourself, "What do I want more: the rewards of battle or the rewards of a close, loving relationship?"'
The 12 causes of conflict
1 Power and control
Like animals, we have a primal desire for a pecking order, even within our close relationships. 'Wanting to have power over people is part of human nature,' says Burns. 'We enjoy feeling superior to others – it means we get what we want from the relationship.' Ultimately, though, we are hurting someone we are meant to care about more than anyone else. Instead of trying to control your partner, try putting yourself in their shoes. Intimidation drives out intimacy, while empathy and respect encourage it.
2 Self-blame
If we shoulder all the blame in our relationship, we are, in fact, rewarded, because we are preventing the other person from criticising us – because we've got in first. However, that takes lots of energy, and as a result, we're not much fun to be around, says Burns. Instead of self-blame, consider sharing the responsibility for things going wrong and take an adult, neutral stance rather than an emotionally charged one.
3 Revenge
Heavily pregnant Helen was so angry when her husband Adrian stayed out late without telling her, she switched off her mobile. 'I knew he'd worry if he couldn't get hold of me,' she says, 'and that was what I wanted.' It is easy to dwell on what another person has done to us, overlooking our own provocative behaviour, but, according to Burns, the urge for revenge too often overwhelms our desire for a loving relationship. 'It doesn't make us happy – it just gives us a sense of righteousness. The most protracted international conflicts have been fuelled by revenge – nobody wins, nobody wants to stop. At some point, somebody has to break the cycle.'
4 Justice and fairness
If someone doesn't meet our expectations, we feel we have every right to punish them. How many times, in the heat of an argument, do we hear ourselves say, 'It's so unfair', when what we mean is, 'This isn't what I want'? This is a distortion, says Burns – it is reasoning informed solely by how we feel or an assumption that our feelings reflect the way things are for our partner too. It supports the erroneous belief that it is the other person who needs to change and allows us to justify hurtful behaviour. The key is to realise that what we said wasn't actually anything to do with fairness or justice. 'When we are annoyed with someone, we flood our minds with negative thoughts that may seem valid at that moment, but that inevitably contain errors,' says Burns.
5 Narcissism
Although a little self-absorption is acceptable, if we find ourselves becoming enraged at the slightest hint of criticism and flying off the handle, we are succumbing to the seductive power of narcissism. Burns suggests trying a disarming technique called the law of opposites: 'When you try to defend yourself from a criticism that is irrational or unfair, you instantly prove it to be valid. If you agree with it, you prove it wrong.' For example, if our partner claims, 'You never listen to me' and we respond with, 'You may be right about that,' we are already proving that we are listening to them.
6 Competition
'Everyone wants to win,' says Burns. 'However, the desire to win only keeps the battle alive.' After years in an unhappy, physically abusive relationship, Annemarie finally found the strength to leave her husband, Phil – only to go back to him a week later. 'We were arguing on the phone and he said to me, "I never thought you were a quitter." I went back just to prove him wrong.'
She left Phil for good six months later and has remarried. Her new relationship couldn't be more different. 'I'm still competitive,' she says, 'but not within my relationship. My husband's my biggest fan – not my opponent.'
7 Anger and bitterness
Anger can provide us with a sense of purpose, particularly if we are in a relationship that is draining our energy. Burns explains that anger can be expressed in three ways: active aggression (seeking out confrontation), passive aggression (unhelpfully avoiding confrontation) or by calmly and respectfully sharing how you feel. The last is the least popular, says Burns, but the most effective. Overcoming anger requires us to work on our ability to listen, he advises. The 'one-minute drill' can help. For 30 seconds, calmly allow the other person to make their point, saying nothing and ensuring your body language is open and positive. Then, for the next 30 seconds, paraphrase back as accurately and respectfully as you can what they said.
8 Blame
It's hard to give up the belief that it's not our fault. Burns suggests using a 'blame cost-benefit analysis'. Draw up two columns on a piece of paper: the advantages of blaming the other person versus the disadvantages. Advantages might include: 'I don't have to feel guilty, I don't have to change, I can feel morally superior.' Disadvantages might be: 'I won't be able to get closer to my partner, I'll be stuck in a cycle, nothing will change.' If the advantages list is longer, you have definitely succumbed to blame as a motivation for conflict. If your list is more 50-50, it's really tempting to want the other person to shoulder half the blame. But if you want a better relationship, says Burns, you must concentrate solely on changing yourself.
9 Scapegoating
Labelling someone as inferior or defective has the advantage of giving us a clear, if inaccurate, explanation for all our relationship problems. Statements such as, 'You always do this' or, 'He's so stupid' are easily made, but cause us to seek evidence to support our labelling. Then we reinforce it by repeating such statements to others – and, like a good gossip, it is a process we often secretly enjoy. But there will always be evidence to support exactly the opposite statement. Seek this out and the power of scapegoating is diffused. For example, instead of saying, 'He's totally unreliable,' ask what evidence there is to support the opposite statement, 'He's very reliable'. This draws attention to their positive behaviour and gives us a more balanced picture of their track record. We may enjoy recounting their failings, because it creates drama and paints us as the victim, but what about the times they were there for us?
10 Pride and shame
Being forced to look at our faults, especially by someone we love, can feel too painful, so instead we put up a wall and become defensive. The key to dealing with this, suggests Burns, is to rethink what it means to be vulnerable. 'When you are totally vulnerable, you are totally invulnerable, because you have nothing more to hide – your vulnerability becomes your greatest strength.' True intimacy requires us to face up to our failings.
11 Truth
When we fight with someone, the subtext is usually 'I'm right and you're wrong'. But what if you're both right? Take this stance, and the majority of conflicts are dead before they start. 'Anything that anyone says has some truth in it,' says Burns. Try to seek that out instead of disregarding their views completely.
12 Hidden agendas
Of the 12 motivations for conflict, this is the hardest to face up to, says Burns. What is your hidden agenda? Do you settle for your relationship's shortcomings because, deep down, you benefit from it? Samura is the main breadwinner in her relationship and frequently works till 10 or 11pm. Despite his often-expressed annoyance, her partner Jake is secretly pleased that he has his evenings to himself and can eat, drink or go out as he pleases. According to Burns, there are always rewards to the 'problems' in your relationship, which means that they aren't really problems. 'It might be that you like things the way they are,' he says, 'but the price that you pay for not being honest is a lack of intimacy. Admitting your hidden agenda is the first step in putting that right.'
I am not a huge Michael Jackson fan, but please don't hold that against me, because I think that the following is one of the most amazing videos and songs ever written, especially from a 'personal change' point of view. Enjoy ...
What is it, I wonder, about our need to blame?
I have been thinking alot about this recently. In the news at the moment is a tragic real life event about a young four year old child who lost her life being attacked by a rescue dog. The mother, as I understand it, entered the room, tried desperately to get the dog off of her little girl, and had to kill the dog to do so. Her child still died.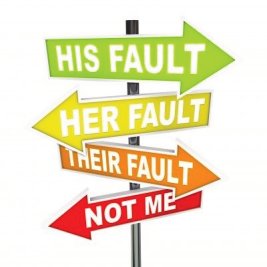 Unfortunately the response from the public, from us, is one of two reactions. One is of huge compassion, feeling for the mother, horror at what the child has gone through, grief at the loss of such a beautiful, innocent life. Many also feel compassion for the rescue dog, who must have suffered horribly under previous owners, and reacted to an unknown trigger which ended so tragically.
The second reaction is, of course, blame. Somebody has to be at fault. Did the child do something unintentionally to scare the dog? Was the dog merely vicious and attacked without provocation (it was, I believe, a mastiff, which has a reputation that clouds this issue in many people's eyes). What about the mother? Should she have got a rescue dog, or been more aware of the issues? Should she have left the child alone?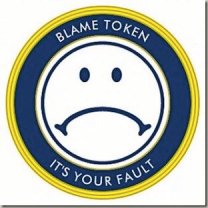 There is something inside us that has to find someone or something to blame. If we can do this, we can somehow find closure. It makes us feel better. 
But the truth is, blame doesn't matter as much as we think it does, and compassion matters far more than we often think. Compassion points us to the suffering of the child and the grief of the family and others. Compassion points us towards the rescue dog and what it must have endured at the hands of less loving people. 
Things happen. Good and bad. We, as always, have a choice. We can choose to blame, making ourselves feel better, somehow justified, right, without doing anything else. Or we can choose to show compassion, understanding, gentleness. 
This is true of tragic stories. It is true in our relationships with our parents, our partners, our children, even our friends and enemies. It is even true in our relationship with and view of ourselves. 
I choose compassion (even though I am not always good at it). It is a work in progress.
What will you choose?
Garry x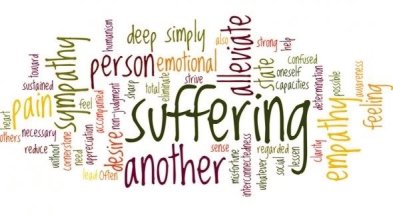 /