Shopping Cart
Your Cart is Empty
There was an error with PayPal
Click here to try again
Thank you for your business!
You should be receiving an order confirmation from Paypal shortly.
Exit Shopping Cart
Gateway Counselling and Therapy Leicester
Safe Professional Counselling and Therapy in Leicester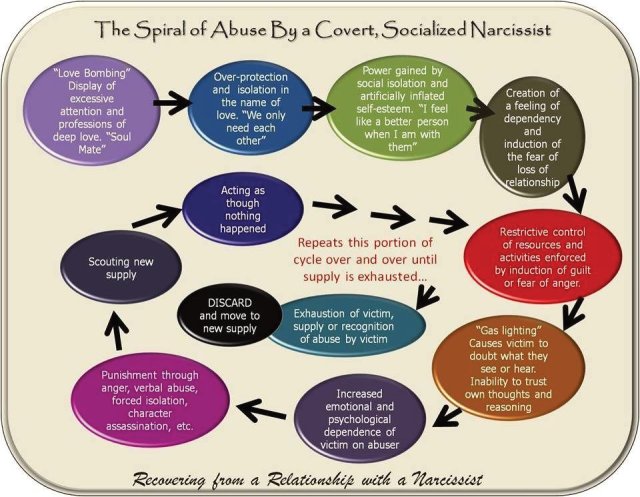 All abuse is dangerous, but Narcissistic Abuse is, to me, particularly insidious. The Abuser appears so loving to start with, but slowly over time cuts off support mechanisms and positive relationships, isolating the victim, and then being incredibly manipulative, making the abuse seem like the victims fault, making them feel like it is them who have failed in some way, not good enough, must try harder, be better.
The reality is that it is the Narcissistic Abuser who has failed, who is not good enough. Somewhere in their childhood they did not form secure loving relationships and learned to get what they need by manipulating others, isolating others, abusing others. As I commented on Facebook, they appear to be strong but are actually weak. 
Do you recognise this pattern?
Are you a victim of a Narcissistic Abuser?
Has your partner or another person isolated you from family and friends?
Do they control where you can go and who you can see?
Are they critical of your family and friends when you do go and see them?
Do they have temper tantrums and then blame you for making that happen?
Do they apologise and promise to change, or tell you that it's only because they love you?
Do you feel like you are walking on eggshells, afraid of upsetting them at the slightest thing?
Do you feel your needs have definitely taken a back seat to their needs?
Do you feel constantly Not Good Enough, a failure, low self esteem, no confidence?
The truth is that you have a right to be you, 
To have a voice
To be respected
To be free from fear and abuse
If you are the victim of Narcissistic Abuse, please please get in touch
TA Therapy is an excellent way for you to discover who you really are and be able to understand why you have ended up where you are, but more importantly, how you can change and move on.
And if you are so insecure that the only way you can get your relationship needs met is by controlling the person you love, by abusing them (let's be honest here), then realise what is happening and get in touch for therapy also. It does not have to continue this way, and abusers need to find healing also. 
To get in touch, click the big red button to go to the Contacts page :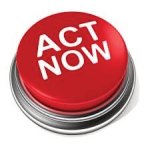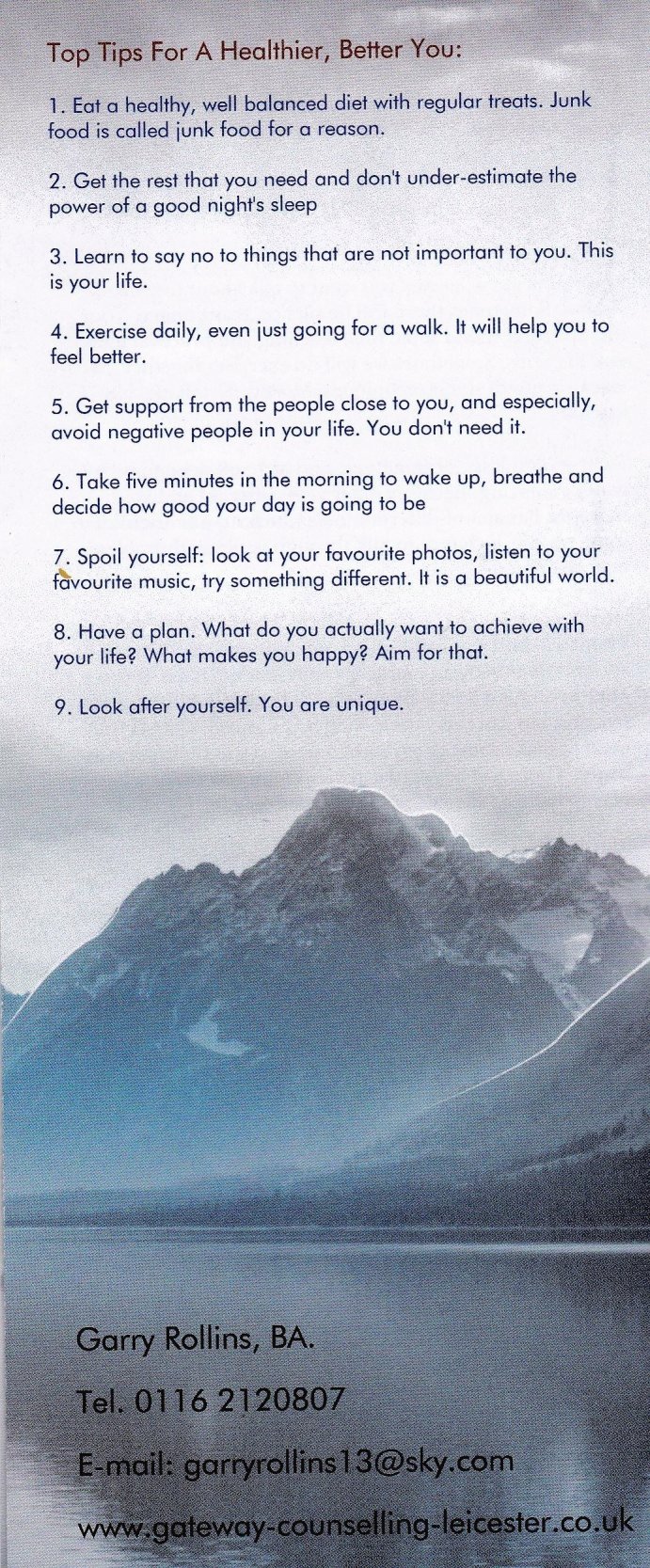 If you live in the Leicester area (England) and think you or someone you know would benefit from counselling then please do get in touch.
www.gateway-counselling-leicester.co.uk
Tel. 0116 2120807
So what kind of issues to people seek help for:
Anxiety, Panic Attacks, Phobia's
Stress, either at work or at home
Relationship Issues (not just marriage)
Feeling stuck in unhelpful habits, moods, behaviours
Eating problems and body or self image issues
Depression, low moods, suicidal thoughts
Oppressive or Intimidating Relationships
Bereavement. Grief, or any kind of loss
Unresolved Childhood Issues
Self Harm or Other Addictive Behaviours
Seeking Help Is Not A Sign Of Weakness
It Is A Sign That, Very Often, We Have Tried To Be Too Strong For Too Long.
If you or someone you know would benefit from counselling, then please do get in touch or encourage them to get in touch.
The picture above is the back page of my brochure. If you would like a brochure or several brochures for yourself or your workplace, contact me. 
WHY WE SECRETLY LOVE TO HATE
Wouldn't it be fantastic if you woke up one morning to find all your problems with your partner had disappeared? Instead of arguing, criticising or ignoring each other, you could just get on with being happy together.
Relationship theory has been dominated by the premise that when we fight, it is because we lack the skills or insight required to resolve conflict. But what if it's not that we don't know how to get along – we just don't want to?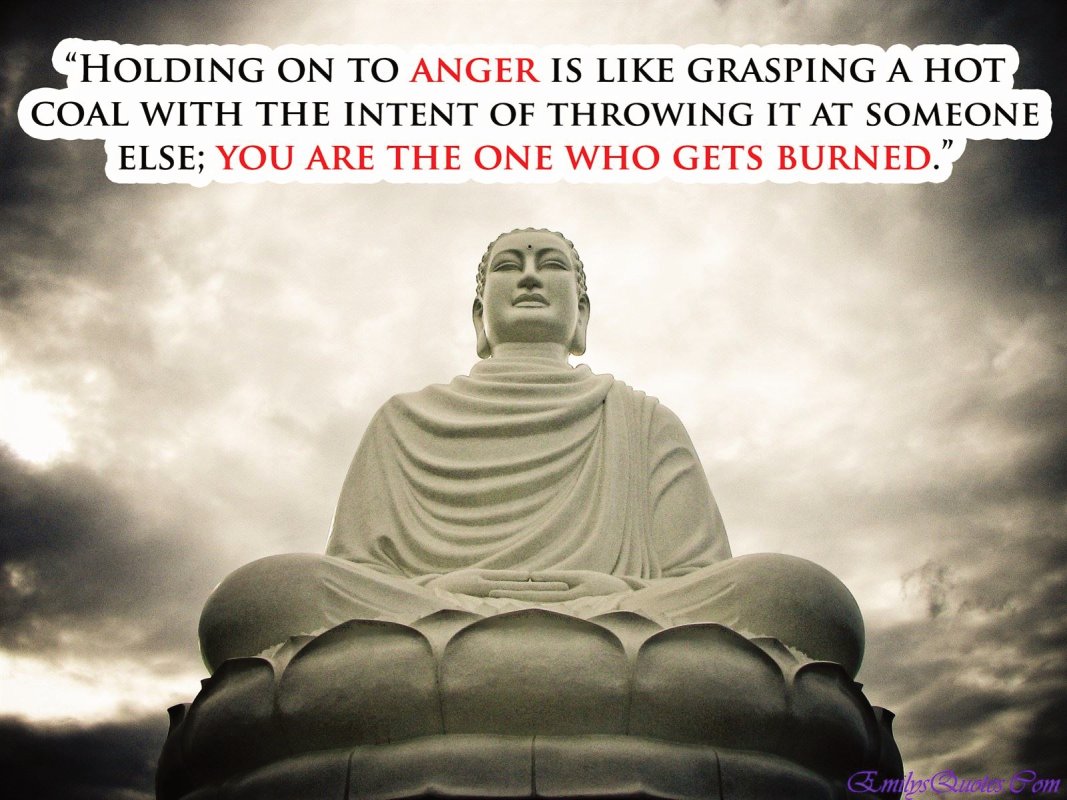 This is the view of 
Dr David Burns
, psychiatrist and author of 
Feeling Good Together
. 
'Many couples I counsel aren't interested in change,' he claims. 'They're more interested in bashing each other's heads in.' The reason, he says, is that our ego competes with our ability to live harmoniously.
Think of someone you don't get along with. Now imagine you can press a button to transform your interaction into a close, caring and supportive friendship. Fancy it? Not many people do.'Sometimes we just don't want to get close to the person we're at odds with,' says Burns. 
He gives his own example of a hostile colleague: 'A close relationship with him is the last thing I want. What I need is for him to admit how self-centred he is.' He believes this 'joy in hostility' is rooted in the animal side of human nature we seek to suppress.
In order to improve our relationships, we have to focus on changing ourselves – not the other person. 'You are 100 per cent of the problem, just as they are,' says Burns. 'The moment you change, the other person will change too. You can't not change someone else: everything you say and do impacts on the behaviour of those around you. 
Ultimately, you need to ask yourself, "What do I want more: the rewards of battle or the rewards of a close, loving relationship?"'
The 12 causes of conflict
1 Power and control
Like animals, we have a primal desire for a pecking order, even within our close relationships. 'Wanting to have power over people is part of human nature,' says Burns. 'We enjoy feeling superior to others – it means we get what we want from the relationship.' Ultimately, though, we are hurting someone we are meant to care about more than anyone else. Instead of trying to control your partner, try putting yourself in their shoes. Intimidation drives out intimacy, while empathy and respect encourage it.
2 Self-blame
If we shoulder all the blame in our relationship, we are, in fact, rewarded, because we are preventing the other person from criticising us – because we've got in first. However, that takes lots of energy, and as a result, we're not much fun to be around, says Burns. Instead of self-blame, consider sharing the responsibility for things going wrong and take an adult, neutral stance rather than an emotionally charged one.
3 Revenge
Heavily pregnant Helen was so angry when her husband Adrian stayed out late without telling her, she switched off her mobile. 'I knew he'd worry if he couldn't get hold of me,' she says, 'and that was what I wanted.' It is easy to dwell on what another person has done to us, overlooking our own provocative behaviour, but, according to Burns, the urge for revenge too often overwhelms our desire for a loving relationship. 'It doesn't make us happy – it just gives us a sense of righteousness. The most protracted international conflicts have been fuelled by revenge – nobody wins, nobody wants to stop. At some point, somebody has to break the cycle.'
4 Justice and fairness
If someone doesn't meet our expectations, we feel we have every right to punish them. How many times, in the heat of an argument, do we hear ourselves say, 'It's so unfair', when what we mean is, 'This isn't what I want'? This is a distortion, says Burns – it is reasoning informed solely by how we feel or an assumption that our feelings reflect the way things are for our partner too. It supports the erroneous belief that it is the other person who needs to change and allows us to justify hurtful behaviour. The key is to realise that what we said wasn't actually anything to do with fairness or justice. 'When we are annoyed with someone, we flood our minds with negative thoughts that may seem valid at that moment, but that inevitably contain errors,' says Burns.
5 Narcissism
Although a little self-absorption is acceptable, if we find ourselves becoming enraged at the slightest hint of criticism and flying off the handle, we are succumbing to the seductive power of narcissism. Burns suggests trying a disarming technique called the law of opposites: 'When you try to defend yourself from a criticism that is irrational or unfair, you instantly prove it to be valid. If you agree with it, you prove it wrong.' For example, if our partner claims, 'You never listen to me' and we respond with, 'You may be right about that,' we are already proving that we are listening to them.
6 Competition
'Everyone wants to win,' says Burns. 'However, the desire to win only keeps the battle alive.' After years in an unhappy, physically abusive relationship, Annemarie finally found the strength to leave her husband, Phil – only to go back to him a week later. 'We were arguing on the phone and he said to me, "I never thought you were a quitter." I went back just to prove him wrong.'
She left Phil for good six months later and has remarried. Her new relationship couldn't be more different. 'I'm still competitive,' she says, 'but not within my relationship. My husband's my biggest fan – not my opponent.'
7 Anger and bitterness
Anger can provide us with a sense of purpose, particularly if we are in a relationship that is draining our energy. Burns explains that anger can be expressed in three ways: active aggression (seeking out confrontation), passive aggression (unhelpfully avoiding confrontation) or by calmly and respectfully sharing how you feel. The last is the least popular, says Burns, but the most effective. Overcoming anger requires us to work on our ability to listen, he advises. The 'one-minute drill' can help. For 30 seconds, calmly allow the other person to make their point, saying nothing and ensuring your body language is open and positive. Then, for the next 30 seconds, paraphrase back as accurately and respectfully as you can what they said.
8 Blame
It's hard to give up the belief that it's not our fault. Burns suggests using a 'blame cost-benefit analysis'. Draw up two columns on a piece of paper: the advantages of blaming the other person versus the disadvantages. Advantages might include: 'I don't have to feel guilty, I don't have to change, I can feel morally superior.' Disadvantages might be: 'I won't be able to get closer to my partner, I'll be stuck in a cycle, nothing will change.' If the advantages list is longer, you have definitely succumbed to blame as a motivation for conflict. If your list is more 50-50, it's really tempting to want the other person to shoulder half the blame. But if you want a better relationship, says Burns, you must concentrate solely on changing yourself.
9 Scapegoating
Labelling someone as inferior or defective has the advantage of giving us a clear, if inaccurate, explanation for all our relationship problems. Statements such as, 'You always do this' or, 'He's so stupid' are easily made, but cause us to seek evidence to support our labelling. Then we reinforce it by repeating such statements to others – and, like a good gossip, it is a process we often secretly enjoy. But there will always be evidence to support exactly the opposite statement. Seek this out and the power of scapegoating is diffused. For example, instead of saying, 'He's totally unreliable,' ask what evidence there is to support the opposite statement, 'He's very reliable'. This draws attention to their positive behaviour and gives us a more balanced picture of their track record. We may enjoy recounting their failings, because it creates drama and paints us as the victim, but what about the times they were there for us?
10 Pride and shame
Being forced to look at our faults, especially by someone we love, can feel too painful, so instead we put up a wall and become defensive. The key to dealing with this, suggests Burns, is to rethink what it means to be vulnerable. 'When you are totally vulnerable, you are totally invulnerable, because you have nothing more to hide – your vulnerability becomes your greatest strength.' True intimacy requires us to face up to our failings.
11 Truth
When we fight with someone, the subtext is usually 'I'm right and you're wrong'. But what if you're both right? Take this stance, and the majority of conflicts are dead before they start. 'Anything that anyone says has some truth in it,' says Burns. Try to seek that out instead of disregarding their views completely.
12 Hidden agendas
Of the 12 motivations for conflict, this is the hardest to face up to, says Burns. What is your hidden agenda? Do you settle for your relationship's shortcomings because, deep down, you benefit from it? Samura is the main breadwinner in her relationship and frequently works till 10 or 11pm. Despite his often-expressed annoyance, her partner Jake is secretly pleased that he has his evenings to himself and can eat, drink or go out as he pleases. According to Burns, there are always rewards to the 'problems' in your relationship, which means that they aren't really problems. 'It might be that you like things the way they are,' he says, 'but the price that you pay for not being honest is a lack of intimacy. Admitting your hidden agenda is the first step in putting that right.'
A Personal Reflection
"I get angry when I read drug manufacturer's definitions of depression and see drab commercials that burst with color as soon as the meds are introduced. Feeling sad, overwhelmed, hopeless, sleeping a lot… 
as long as we hold onto the definitions that are fed to us as truth without exploring them we can never see anything more than that. If it were that simple, maybe popping pills would help. But it is their very definition that blinds us to the truth of discovering what depression is. 
We feel like they really know us, with their simple definitions. We read each symptom on the checklist and say "Yes! that is exactly how I feel!". Upon further examination, you have to admit that this is only part of the picture. 
People are in so much pain, so desperate for immediate relief, needing someone to understand us in the worst way, that reading these simple sentences, seals the deal. We do not question if it is deeper than that, we believe that we can pop a pill and then all those symptoms will disappear. If it were that simple, why are more and more medications failing more and more people?  
According to the Abilify website, 2 out of 3 people taking an antidepressant still experienced unresolved symptoms of depression!
I have taken the typical definitions of depression and injected a little bit of deeper truth.
Depression is:
A suppressed level of functioning. At this level of functioning there is no hope that we will ever fulfill our dreams or become the people the voices in our heart tell us we are.
Inability to connect the dots between where you are to where you want to be. Mindlessly repeating patterns of thought and behavior that are not positive and do not get us to where we want to go.
Feeling "different" than others, and not in a good way. This comes from a skewed perspective on life and the world. This stems from our beliefs about ourselves and our perceived limitations. Our external environment is a direct reflection of our mental state of affairs.
Crying frequently/ feeling emotional pain- without clarity as to what that pain is all about. Because there is no clarity, there can be no outlet or resolution. Often unconsciously, we still see our experiences through the eyes of our childhood. When consciously we examine these things with our adult minds, we realize that they are much different than we have processed them. When we see truly reality, we can make sense of it, grieve and be angry if we need to, and then let it go.
Excessive fatigue and sleeping- to avoid the pain of life. This is our mind trying to protect itself from things it can't handle. Sleeping because of depression is dying without the commitment. I didn't kill myself, but I avoided life and all the things that are too painful for me in it (mentally or in circumstance), by sleeping. By examining the multitudes of reasons we find life's situations so painful, we can shed light on them and begin to heal.
Feeling overwhelmed and hopeless- inability to effectively clear up emotional pain and dysfunction. Our minds combine all of our past experiences as if it were a blender. The thick murky soup that results is how we define ourselves, how we react, how we embrace the future. It is this murky soup and our inability to sort through it that causes hopelessness and the feeling of being completely overwhelmed.
Less interest in activities- because we are carrying too much emotional weight and in too much pain (it is quite possible to be in complete emotional agony without even realizing it). Dysfunction comes from destructive methods of reacting to situations. Things that at surface value should be enjoyable are painful because of how we are processing them under the surface. Often our means of processing is not entirely conscious and so we must dig deeply to figure out why we are having this reaction.
Thoughts or attempts at suicide. Depression is unbearable, and the life it creates is hell. Feeling suicidal is not really about wanting to die. It is about wanting to be free. Free from pain. Because most people do not receive the help and support that they need, they do not realize they can have this freedom in their life, and so they sadly conclude that they must die to achieve it.
All of these symptoms are the things circling under the surface of the depression. It is all a vicious cycle, all of these symptoms feed each other and create more depression until the point where we lose all hope. 
Medication promises to treat these symptoms, but will never heal anything. What we need to do is dig below the surface, find the roots and work to dissolve them. As a result, all of the surface symptoms disappear. 
The more I think about how much medication I was on, and how strong all of the symptoms still were, the more I realize how amazing my mind truly is. It never stopped telling me, no matter how medicated, that something is really wrong under the surface. It didn't give up, until I listened to it. 

Feeling suicidal is not really about wanting to die. It is about wanting to be free."
Padhia Avocado.
What is it, I wonder, about our need to blame?
I have been thinking alot about this recently. In the news at the moment is a tragic real life event about a young four year old child who lost her life being attacked by a rescue dog. The mother, as I understand it, entered the room, tried desperately to get the dog off of her little girl, and had to kill the dog to do so. Her child still died.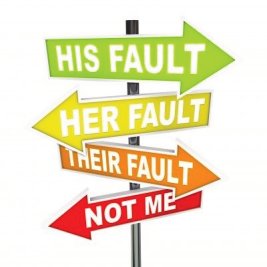 Unfortunately the response from the public, from us, is one of two reactions. One is of huge compassion, feeling for the mother, horror at what the child has gone through, grief at the loss of such a beautiful, innocent life. Many also feel compassion for the rescue dog, who must have suffered horribly under previous owners, and reacted to an unknown trigger which ended so tragically.
The second reaction is, of course, blame. Somebody has to be at fault. Did the child do something unintentionally to scare the dog? Was the dog merely vicious and attacked without provocation (it was, I believe, a mastiff, which has a reputation that clouds this issue in many people's eyes). What about the mother? Should she have got a rescue dog, or been more aware of the issues? Should she have left the child alone?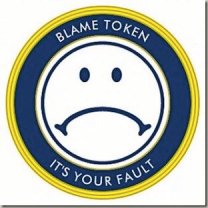 There is something inside us that has to find someone or something to blame. If we can do this, we can somehow find closure. It makes us feel better. 
But the truth is, blame doesn't matter as much as we think it does, and compassion matters far more than we often think. Compassion points us to the suffering of the child and the grief of the family and others. Compassion points us towards the rescue dog and what it must have endured at the hands of less loving people. 
Things happen. Good and bad. We, as always, have a choice. We can choose to blame, making ourselves feel better, somehow justified, right, without doing anything else. Or we can choose to show compassion, understanding, gentleness. 
This is true of tragic stories. It is true in our relationships with our parents, our partners, our children, even our friends and enemies. It is even true in our relationship with and view of ourselves. 
I choose compassion (even though I am not always good at it). It is a work in progress.
What will you choose?
Garry x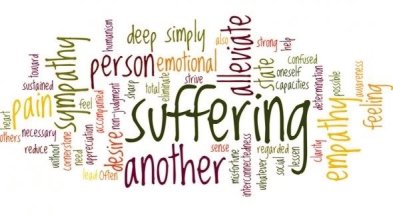 Easier said than done, but still consider the implications of the following story ...
How The Hate We Carry Can Burden Us.
A kindergarten teacher has decided to let her class play a game.
The teacher told each child in the class to bring along a plastic bag containing a few potatoes. Each potato will be given a name of a person that the child hates, so the number of potatoes that a child will put in his/her plastic bag will depend on the number of people he/she hates.

So when the day came, every child brought some potatoes with the name of the people he/she hated. Some had 2 potatoes; some 3 while some up to 5 potatoes.
The teacher then told the children to carry with them the potatoes in the plastic bag wherever they go (even to the toilet) for 1 week.

Days after days passed by, and the children started to complain due to the unpleasant smell let out by the rotten potatoes. Besides, those having 5 potatoes also had to carry heavier bags. 
After 1 week, the children were relieved because the game had finally ended.
The teacher asked: "How did you feel while carrying the potatoes with you for 1 week?" The children let out their frustrations and started complaining of the trouble that they had to go through having to carry the heavy and smelly potatoes wherever they go.


Then the teacher told them the hidden meaning behind the game. The teacher said: "This is exactly the situation when you carry your hatred for somebody inside your heart. The stench of hatred will contaminate your heart and you will carry it with you wherever you go. If you cannot tolerate the smell of rotten potatoes for just 1 week, can you imagine what is it like to have the stench of hatred in your heart for your lifetime?"
/