Shopping Cart
Your Cart is Empty
There was an error with PayPal
Click here to try again
Thank you for your business!
You should be receiving an order confirmation from Paypal shortly.
Exit Shopping Cart
Gateway Counselling and Therapy Leicester
Safe Professional Counselling and Therapy in Leicester
I friend gave me an article in The Metro this week about Life Coach, Michael Serwa, and the following impressed me so much I thought it was worth sharing (edited and expanded slightly) :
Ten Things That Stop You From Being Amazing:
1. You worry too much about what other people will think.
    Other people are too busy worrying about what you think of them to be thinking about what you     are doing. Or to use Will Smith's words: 'stop letting people who put you down control so much       of your life.'
2. You are in a career you don't really like:
    Seriously, change it. Do you really want to look back from your deathbed and see yourself in a       career you didn't really like? Take small positive steps towards what you really enjoy doing.
3. You try to do everything yourself:
     Don't. Learn to delegate or prioritise as much as you can so that you can free up time to do           things that you really enjoy doing (and then do them)
4. You wait for something or someone to motivate you:
    Stop waiting for someone else. Find something that excites you, something you enjoy doing.           That is what really motivates you. (if you are stuck, work out what it is that you do instead of       the things you should be doing but don't want to). The reality is, no-one else can motivate you       to do something you don't want to do.
5. People around you bring you down:
    On average we have five people we spend most of our time with. Choose those people wisely.         No-one needs negative nellies in our life. Challenge them about it or spend less time with them.       Also, perhaps, work out why you gravitate towards people who are bringing you down.
6. You put other people's happiness before your own:
    Work out what makes you happy, what makes you smile, and do more of that. Your happiness         will be contagious and other people will be attracted to it. You can still help others, but not at       the expense of your own happiness. 
7. You don't know where you are going:
    You have no sense of direction, no purpose, no reason to get out of bed in the morning. What is     it that you want to do. Where is it that you want to go. Set goals. Take actions.
8. You blame other people and circumstances for where you are:
    The truth is, life can be very unfair. But this is your life. Take responsibility for it and, basically,       bluntly, stop moaning about it. You will feel better if you do something about the parts of your       life that you are not happy about. Then you wont need to moan about it.
9. You are living with regret about the past or unrealistic expectations about the future:
    You cannot change the past, so grieve for it, cry if you need to and then move on. You don't         need to forget it, but don't let it keep you in the past. And be realistic about the future.               Especially, there is no Santa Claus, no magical solution to your problems. Don't wait for a lottery     win before you decide to do something with your future. Act Now.
10. You are your own worst critic
      How many reasons do you have in your own head for why you can't do something. Stop                 criticising yourself (why do that to yourself?). Stop comparing yourself to others (they may           appear confidant, but they struggle just as you do). Most of all, Be Kind To Yourself.
I hope this helps. I found it very useful. But please, I beg you, don't use this list to put yourself down. Use it to motivate yourself. and I stand on the last words of point ten:
Most of all, Be Kind To Yourself.
Regards,
Garry.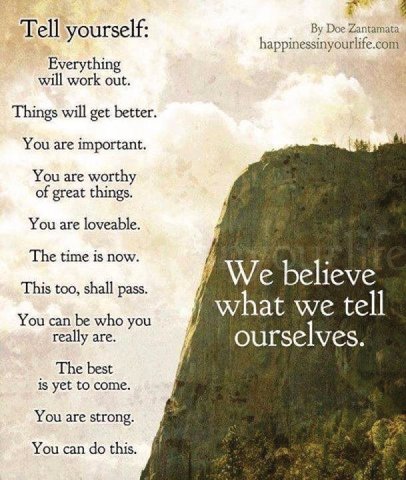 This, I think, is one of the most important points in counselling and therapy for people to grasp.
What we tell ourselves has a huge impact on the way we think, how we feel and what we do about our lives.
Even more so, the stories we tell ourselves and keep retelling ourselves have a huge impact ... those stories we also keep telling to other people to justify why we feel the way we do or why we do what we do.
Imagine ...
A person who constantly tells themselves they feel useless, convinces themselves they can't do something, reminds themselves of all the times they tried and something went wrong or others made fun of them, even tells others those stories as if in jest, but they're not really joking ...
What's going to happen to that person?
And what about the person who feels that life isn't worth living ...
They remember all the struggles, the pain and hurts which are incredibly real and actually happened, they have a list in their heads of every bad thing that happened, and probably a list of who was to blame for it. They may even have convinced themselves that they are to blame somewhere buried inside. They have a 'yes, but' for every time someone tries to convince them life is worth living, a story they recount as if to prove their point. They retell all those stories, not just to others but to themselves over and over again (and by default ignore all the reasons people give them for why life is worth living, because those reasons don't fit what they want to believe).
What is going to happen to that person.
And finally (for now) ...
What about the person who says ...
Things will get better (because they have to ...)
I am important (because I am alive and I am here ...)
This too will pass (because all things do if I can just persevere ...)
and so on.
What will happen to the person who remembers the times they succeeded (even though there were times when they failed), reminds their friends of the better times as well as the worst, chooses to look at the beauty in the world (even though there is plenty that is not beautiful).
It is not an easy path. It is easier (and often more popular) to look at the crap that happens to us (and let's face it, it happens to all of us and there is no shortage of examples)
But maybe it's time to let go of those stories and find better ones.
The choice, as always, is our own, yours and mine 
Regards,
Garry x
/