Shopping Cart
Your Cart is Empty
There was an error with PayPal
Click here to try again
Thank you for your business!
You should be receiving an order confirmation from Paypal shortly.
Exit Shopping Cart
Gateway Counselling and Therapy Leicester
Safe Professional Counselling and Therapy in Leicester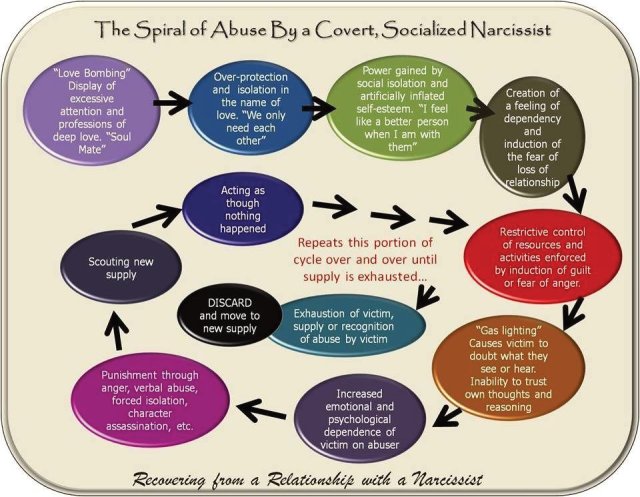 All abuse is dangerous, but Narcissistic Abuse is, to me, particularly insidious. The Abuser appears so loving to start with, but slowly over time cuts off support mechanisms and positive relationships, isolating the victim, and then being incredibly manipulative, making the abuse seem like the victims fault, making them feel like it is them who have failed in some way, not good enough, must try harder, be better.
The reality is that it is the Narcissistic Abuser who has failed, who is not good enough. Somewhere in their childhood they did not form secure loving relationships and learned to get what they need by manipulating others, isolating others, abusing others. As I commented on Facebook, they appear to be strong but are actually weak. 
Do you recognise this pattern?
Are you a victim of a Narcissistic Abuser?
Has your partner or another person isolated you from family and friends?
Do they control where you can go and who you can see?
Are they critical of your family and friends when you do go and see them?
Do they have temper tantrums and then blame you for making that happen?
Do they apologise and promise to change, or tell you that it's only because they love you?
Do you feel like you are walking on eggshells, afraid of upsetting them at the slightest thing?
Do you feel your needs have definitely taken a back seat to their needs?
Do you feel constantly Not Good Enough, a failure, low self esteem, no confidence?
The truth is that you have a right to be you, 
To have a voice
To be respected
To be free from fear and abuse
If you are the victim of Narcissistic Abuse, please please get in touch
TA Therapy is an excellent way for you to discover who you really are and be able to understand why you have ended up where you are, but more importantly, how you can change and move on.
And if you are so insecure that the only way you can get your relationship needs met is by controlling the person you love, by abusing them (let's be honest here), then realise what is happening and get in touch for therapy also. It does not have to continue this way, and abusers need to find healing also. 
To get in touch, click the big red button to go to the Contacts page :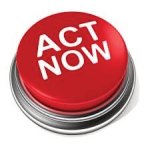 The following is my version of a post my brother sent to me recently about Mindfulness, originally posted on The Huffington Post and adapted by me:
Mindfulness isn't just something you practice during a 10-minute morning meditation session. It can be incorporated throughout your everyday life by simply paying a little more attention to your daily activities as you're performing them.
"Mindfulness starts to get really interesting when we can start to integrate it into everyday life. Remember, mindfulness means to be present, in the moment. And if you can do it sitting on a chair, then why not while out shopping, drinking a cup of tea, eating your food, holding the baby, working at the computer or having a chat with a friend? All of these are opportunities to apply mindfulness, to be aware, to stay in the present moment."



Many great artists, thinkers, writers and other creative workers -- from David Lynch to Mario Batali to Sandra Oh -- have said that meditation helps them to access their most creative state of mind. 
If you want to become more mindful but are struggling with a silent meditation practice, try engaging in your favorite creative practice, whether it's baking, doodling, or singing in the shower, and see how your thoughts quiet down as you get into a state of flow.
Our breath is a barometer for our overall physical and mental state -- and it's also the foundation of mindfulness. As mindful people know, calming the breath is the key to calming the mind.
"So the object of your mindfulness is your breath, and you just focus your attention on it. Breathing in, this is my in-breath. Breathing out, this is my out-breath. When you do that, the mental discourse will stop. You don't think anymore. You don't have to make an effort to stop your thinking; you bring your attention to your in-breath and the mental discourse just stops. That is the miracle of the practice. You don't think of the past anymore. You don't think of the future. You don't think of your projects, because you are focusing your attention, your mindfulness, on your breath."  (See my own page on

Mindfulness

for more about breathing)






Multitasking is the enemy of focus -- many of us spend our days in a state of divided attention and near-constant multitasking, and it keeps us from truly living in the present. 
"Rather than divide our attention, it is far more effective to take frequent breaks between intervals of sustained, one-pointed attention," 
The mindful way, Salzberg suggests, is to focus on one task completely for a given period of time, and then take a break before continuing or moving on to another task.
Mindful people have a healthy relationship with their mobile devices and know when to use them and when to turn them off or leave them alone. 
This might mean making a point never to start or end the day checking email or maybe even keeping their smartphones in a separate room while they're sleeping, or choosing to unplug on Saturdays or every time they go on vacation. Especially important, not using phones, checking texts or playing games when you really should be listening and chatting to the other people in the room who came to see you!
Those who mindfully interact with others look up from their screens and into the eyes of whomever they're interacting with, and in doing so, develop and maintain stronger connections in all their relationships.
Excessive preoccupation with happiness can actually be counterproductive, leading to an unhealthy attitude towards negative emotions and experiences. 
Mindful people don't try to avoid negative emotions or always look on the bright side -- rather, accepting both positive and negative emotions and letting different feelings coexist is a key component of remaining even-keeled and coping with life's challenges in a mindful way.
As Mother Teresa put it, "Be happy in the moment, that's enough. Each moment is all we need, not more."
(Interestingly, I think we often stop others from crying, not to make them feel better, but to make ourselves feel less uncomfortable. Good friends cry with those who cry).
So often, we shovel food into our mouths without paying any attention to what we're eating and whether we feel full. We ignore discomfort, hoping it will go away, even when it clearly won't. Some use alcohol, drugs, even porn, to numb what they feel.
Mindful people make a practice of listening to their bodies -- and they consciously nourish themselves with healthy foods, prepared and eaten with care. But mindfulness is all about taking your time, paying attention to the moment, focus fully on what is happening and how they physically feel.
I believe that each of us know exactly what we do that is unhealthy and we do it anyway. Maybe it is time to embrace a more mindful and healthy way of living.
A critical factor in cultivating a mindful personality is refusing to get wrapped up and carried away by the constant tug of the emotions. If you can remember to laugh and keep an even keep through the ups and downs, then you've come a long way already in mastering the art of mindfulness.
While mindfulness is all about focusing on the present moment, mind-wandering also serves an important psychological function, and conscientious people are able to find the happy medium between these two ways of thinking. 
I have been thinking alot lately. It's a bad habit, but there you go.
I posted this on my Facebook page today: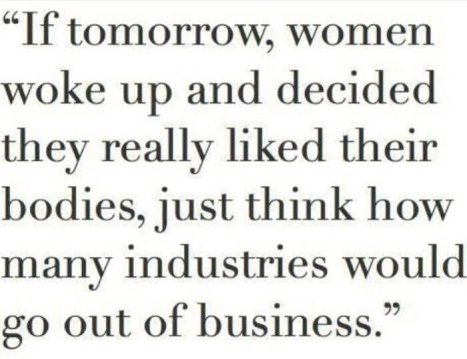 And all over Facebook (and rightly so and long overdue) are selfies (self portrait camera photos for the FB newbies) of women without make-up, to raise awareness of cancer. 
Now I am not going to show any of those photo's because my female FB friends would kill me and I like living (you know who you are). 
But I think they look fantastic. This, apparently, is not a popular view. They, themselves do not think they look fantastic, quite the opposite, which is sad because they are great people and not stupid. One friend even said she would not go to the shops without make-up (but still posted a 'selfie' so well done). 
I do not want to live in a society where people (and I have to say, mostly women) think they look ugly without make-up. When did our self esteem become so caught up in this fakery that we cannot bear others to see our spots, blemishes and pale skin. Seriously?
And the beauty industry is fake. Even the women and celebrities in magazines don't look like the women and celebrities in magazines. Vogue stated yesterday that people don't want to see ordinary women on magazine covers. Vogue, incidentally, do not make their fortune from selling magazines to women ... they make their fortune selling beauty adverts to advertisers ---> you, my female friends, are being sold to beauty advertisers. You are the commodity, the object, not the magazine. Vogue make over $4million per magazine selling you to advertisers.
When does it become time to say NO!
You may or may not know this, but I work with children with disabilities and complex health care needs. It's a great job (most of the time) and I love it. And I can say without any fear of contradiction that every single one of the children I work with is beautiful. Not because of the clothes they wear, or the make-up (which most don't wear and some do in moderation).When they smile it lights up the room. When they cry it can be heartbreaking.  They are beautiful because of who they are, whether others see it or not.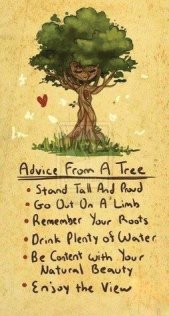 And so are you. (and so am I).
I love spending time in my back garden, or at the local parks. As well as being very relaxing, if you sit quietly, look around and reflect, there is a great deal to be learned from living things. 
Life and living things persevere. They sprout, grow, blossom, die, regrow. We see it all the time that we forget what a miracle it is.
Some things are colourful, others not so bright but still a vibrant part of nature. It all interacts and works and thrives. Naturally. Learn from the butterflies (and the humble Caterpillars that will become even more beautiful but do not know it). Learn from the trees and the lavender and rosemary, the fish, even the birds. 
You are a part of this wonderful world.
Shine for who you really are.
This is my selfie, for cancer awareness:
Regards,
Garry 
WHY WE SECRETLY LOVE TO HATE
Wouldn't it be fantastic if you woke up one morning to find all your problems with your partner had disappeared? Instead of arguing, criticising or ignoring each other, you could just get on with being happy together.
Relationship theory has been dominated by the premise that when we fight, it is because we lack the skills or insight required to resolve conflict. But what if it's not that we don't know how to get along – we just don't want to?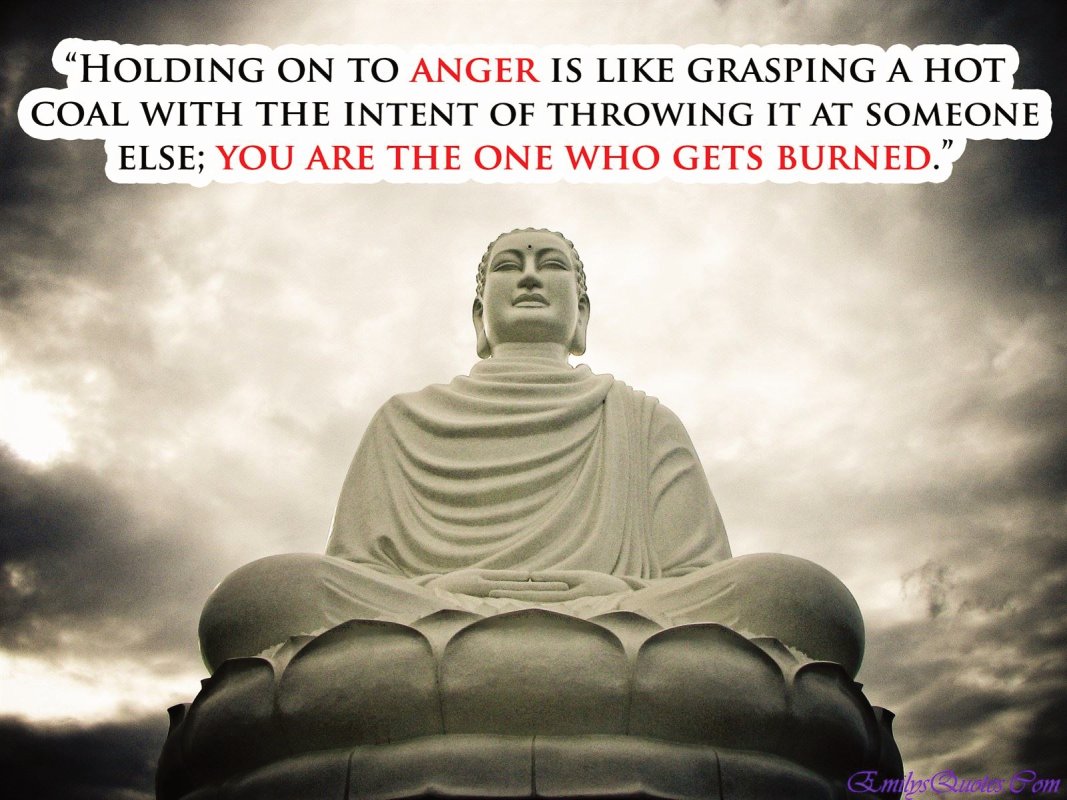 This is the view of 
Dr David Burns
, psychiatrist and author of 
Feeling Good Together
. 
'Many couples I counsel aren't interested in change,' he claims. 'They're more interested in bashing each other's heads in.' The reason, he says, is that our ego competes with our ability to live harmoniously.
Think of someone you don't get along with. Now imagine you can press a button to transform your interaction into a close, caring and supportive friendship. Fancy it? Not many people do.'Sometimes we just don't want to get close to the person we're at odds with,' says Burns. 
He gives his own example of a hostile colleague: 'A close relationship with him is the last thing I want. What I need is for him to admit how self-centred he is.' He believes this 'joy in hostility' is rooted in the animal side of human nature we seek to suppress.
In order to improve our relationships, we have to focus on changing ourselves – not the other person. 'You are 100 per cent of the problem, just as they are,' says Burns. 'The moment you change, the other person will change too. You can't not change someone else: everything you say and do impacts on the behaviour of those around you. 
Ultimately, you need to ask yourself, "What do I want more: the rewards of battle or the rewards of a close, loving relationship?"'
The 12 causes of conflict
1 Power and control
Like animals, we have a primal desire for a pecking order, even within our close relationships. 'Wanting to have power over people is part of human nature,' says Burns. 'We enjoy feeling superior to others – it means we get what we want from the relationship.' Ultimately, though, we are hurting someone we are meant to care about more than anyone else. Instead of trying to control your partner, try putting yourself in their shoes. Intimidation drives out intimacy, while empathy and respect encourage it.
2 Self-blame
If we shoulder all the blame in our relationship, we are, in fact, rewarded, because we are preventing the other person from criticising us – because we've got in first. However, that takes lots of energy, and as a result, we're not much fun to be around, says Burns. Instead of self-blame, consider sharing the responsibility for things going wrong and take an adult, neutral stance rather than an emotionally charged one.
3 Revenge
Heavily pregnant Helen was so angry when her husband Adrian stayed out late without telling her, she switched off her mobile. 'I knew he'd worry if he couldn't get hold of me,' she says, 'and that was what I wanted.' It is easy to dwell on what another person has done to us, overlooking our own provocative behaviour, but, according to Burns, the urge for revenge too often overwhelms our desire for a loving relationship. 'It doesn't make us happy – it just gives us a sense of righteousness. The most protracted international conflicts have been fuelled by revenge – nobody wins, nobody wants to stop. At some point, somebody has to break the cycle.'
4 Justice and fairness
If someone doesn't meet our expectations, we feel we have every right to punish them. How many times, in the heat of an argument, do we hear ourselves say, 'It's so unfair', when what we mean is, 'This isn't what I want'? This is a distortion, says Burns – it is reasoning informed solely by how we feel or an assumption that our feelings reflect the way things are for our partner too. It supports the erroneous belief that it is the other person who needs to change and allows us to justify hurtful behaviour. The key is to realise that what we said wasn't actually anything to do with fairness or justice. 'When we are annoyed with someone, we flood our minds with negative thoughts that may seem valid at that moment, but that inevitably contain errors,' says Burns.
5 Narcissism
Although a little self-absorption is acceptable, if we find ourselves becoming enraged at the slightest hint of criticism and flying off the handle, we are succumbing to the seductive power of narcissism. Burns suggests trying a disarming technique called the law of opposites: 'When you try to defend yourself from a criticism that is irrational or unfair, you instantly prove it to be valid. If you agree with it, you prove it wrong.' For example, if our partner claims, 'You never listen to me' and we respond with, 'You may be right about that,' we are already proving that we are listening to them.
6 Competition
'Everyone wants to win,' says Burns. 'However, the desire to win only keeps the battle alive.' After years in an unhappy, physically abusive relationship, Annemarie finally found the strength to leave her husband, Phil – only to go back to him a week later. 'We were arguing on the phone and he said to me, "I never thought you were a quitter." I went back just to prove him wrong.'
She left Phil for good six months later and has remarried. Her new relationship couldn't be more different. 'I'm still competitive,' she says, 'but not within my relationship. My husband's my biggest fan – not my opponent.'
7 Anger and bitterness
Anger can provide us with a sense of purpose, particularly if we are in a relationship that is draining our energy. Burns explains that anger can be expressed in three ways: active aggression (seeking out confrontation), passive aggression (unhelpfully avoiding confrontation) or by calmly and respectfully sharing how you feel. The last is the least popular, says Burns, but the most effective. Overcoming anger requires us to work on our ability to listen, he advises. The 'one-minute drill' can help. For 30 seconds, calmly allow the other person to make their point, saying nothing and ensuring your body language is open and positive. Then, for the next 30 seconds, paraphrase back as accurately and respectfully as you can what they said.
8 Blame
It's hard to give up the belief that it's not our fault. Burns suggests using a 'blame cost-benefit analysis'. Draw up two columns on a piece of paper: the advantages of blaming the other person versus the disadvantages. Advantages might include: 'I don't have to feel guilty, I don't have to change, I can feel morally superior.' Disadvantages might be: 'I won't be able to get closer to my partner, I'll be stuck in a cycle, nothing will change.' If the advantages list is longer, you have definitely succumbed to blame as a motivation for conflict. If your list is more 50-50, it's really tempting to want the other person to shoulder half the blame. But if you want a better relationship, says Burns, you must concentrate solely on changing yourself.
9 Scapegoating
Labelling someone as inferior or defective has the advantage of giving us a clear, if inaccurate, explanation for all our relationship problems. Statements such as, 'You always do this' or, 'He's so stupid' are easily made, but cause us to seek evidence to support our labelling. Then we reinforce it by repeating such statements to others – and, like a good gossip, it is a process we often secretly enjoy. But there will always be evidence to support exactly the opposite statement. Seek this out and the power of scapegoating is diffused. For example, instead of saying, 'He's totally unreliable,' ask what evidence there is to support the opposite statement, 'He's very reliable'. This draws attention to their positive behaviour and gives us a more balanced picture of their track record. We may enjoy recounting their failings, because it creates drama and paints us as the victim, but what about the times they were there for us?
10 Pride and shame
Being forced to look at our faults, especially by someone we love, can feel too painful, so instead we put up a wall and become defensive. The key to dealing with this, suggests Burns, is to rethink what it means to be vulnerable. 'When you are totally vulnerable, you are totally invulnerable, because you have nothing more to hide – your vulnerability becomes your greatest strength.' True intimacy requires us to face up to our failings.
11 Truth
When we fight with someone, the subtext is usually 'I'm right and you're wrong'. But what if you're both right? Take this stance, and the majority of conflicts are dead before they start. 'Anything that anyone says has some truth in it,' says Burns. Try to seek that out instead of disregarding their views completely.
12 Hidden agendas
Of the 12 motivations for conflict, this is the hardest to face up to, says Burns. What is your hidden agenda? Do you settle for your relationship's shortcomings because, deep down, you benefit from it? Samura is the main breadwinner in her relationship and frequently works till 10 or 11pm. Despite his often-expressed annoyance, her partner Jake is secretly pleased that he has his evenings to himself and can eat, drink or go out as he pleases. According to Burns, there are always rewards to the 'problems' in your relationship, which means that they aren't really problems. 'It might be that you like things the way they are,' he says, 'but the price that you pay for not being honest is a lack of intimacy. Admitting your hidden agenda is the first step in putting that right.'
A little girl had been shopping with her Mom in Wal-Mart. She must have been 6 years old, this beautiful red haired, freckle faced image of innocence.

It was pouring outside. The kind of rain that gushes over the top of rain gutters, so much in a hurry to hit the earth it has no time to flow down the spout.. We all stood there, under the awning, just inside the door of the Wal-Mart. We waited, some patiently, others irritated because nature messed up their hurried day. 

I am always mesmerized by rainfall. I got lost in the sound and sight of the heavens washing away the dirt and dust of the world. Memories of running, splashing so carefree as a child came pouring in as a welcome reprieve from the worries of my day. 

Her little voice was so sweet as it broke the hypnotic trance we were all caught in,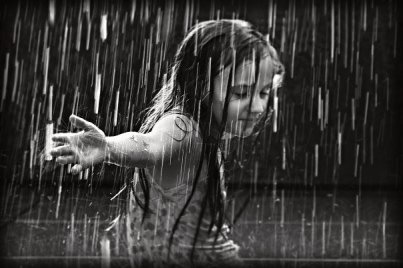 'Mom let's run through the rain,' She said. 
'What?' Mom asked. 
'Let's run through the rain!' She repeated. 
'No, honey. We'll wait until it slows down a bit,' Mom replied. 
This young child waited a minute and repeated: 'Mom, let's run through the rain..' 
'We'll get soaked if we do,' Mom said. 
'No, we won't, Mom. That's not what you said this morning,' the young girl said as she tugged at her Mom's arm. 
'This morning? When did I say we could run through the rain and not get wet?' 
'Don't you remember? When you were talking to Daddy about his cancer, you said, ' If God can get us through this, He can get us through anything! ' 
The entire crowd stopped dead silent.. I swear you couldn't hear anything but the rain.. We all stood silently. No one left. Mom paused and thought for a moment about what she would say. 
Now some would laugh it off and scold her for being silly. Some might even ignore what was said. But this was a moment of affirmation in a young child's life. A time when innocent trust can be nurtured so that it will bloom into faith. 
'Honey, you are absolutely right. Let's run through the rain. If GOD let's us get wet, well maybe we just need washing,' Mom said. 
Then off they ran. We all stood watching, smiling and laughing as they darted past the cars and yes, through the puddles. They got soaked. 
They were followed by a few who screamed and laughed like children all the way to their cars. And yes, I did. I ran. I got wet. I needed washing. 
Circumstances or people can take away your material possessions, they can take away your money, and they can take away your health. But no one can ever take away your precious memories...So, don't forget to make time and take the opportunities to make memories every day. 
I HOPE YOU STILL TAKE THE TIME TO RUN THROUGH THE RAIN. 
What does it take to let go in our lives? To allow for loss – of a loved one, a cherished object, a known and familiar feeling or experience. How do we go about surrendering and letting go?
My experience is that most of us will cling to that someone or something, refusing to let it go completely. We make excuses, rationalize and bargain with ourselves. Confronted with the event of loss we tend to grip, to cling, to wrap ourselves around the very thing we need to let go of.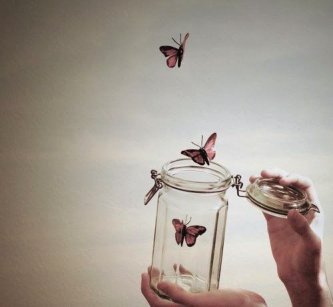 It is human nature to fear surrendering what we most love, what we have grown accustomed to. It is human nature to fear surrendering and letting go, period. It frightens us, it makes us feel vulnerable, makes us feel alone, existentially doomed to loss. 
What will we have once we let go? 
Once we surrender? It takes a leap of faith, a belief that once we release our grip we will be able to continue our life in a different, and perhaps even fuller way. We build our lives around loved ones, family, things, objects, habits, beliefs, you name it. And letting go of "it" whatever "it" is, threatens our very sense of being. 
Talking with a patient about her struggle letting go of her persistent binging, and of her tendency to isolate and sleep, to wrap herself in familiar patterns, her fear that she will always have a black hole inside, she tells me a Buddhist story: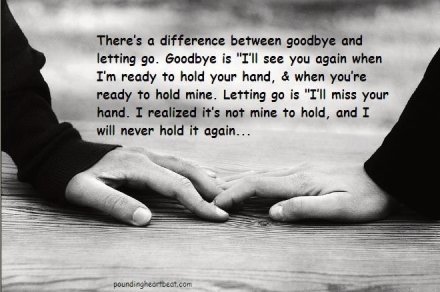 A man slips and falls down the side of a mountain, he begins to fall quickly, the end of the precipice thousands of feet below. He manages to grab a branch, and as he clings to it for dear life, he begins a dialogue in his head:




"Dear lord, if you get me out of this one I promise I will pray and I will never do wrong again."




"SURE" a voice replies, "THAT'S WHAT THEY ALL SAY."




Startled, looking for the source of the voice and glancing down at the precipice below, the man continues, "No really, I will, I promise, just help me get out of this one, and I will do anything you want, anything really!"




"EVERYONE SAYS THAT IN YOUR SHOES."




"Please, I promise, I will, I will do anything you say."




"ARE YOU SURE, ANYTHING AT ALL?"




"Yes, absolutely!"




"FINE….THEN LET GO!"



To let go is counter intuitive to us, and yet, we cannot advance without doing so. The very act of clinging keeps us immobile, tightly wound around the thing we cling to. Even when we want to let go, we fear… the precipice. I think this must be akin to what Sartre had on his mind when he described existential angst.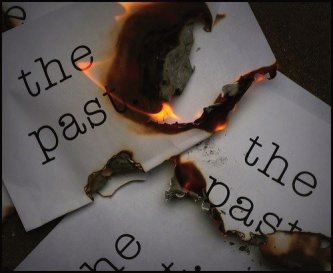 Very unlike the next example, which celebrates letting go as part of the natural order of life.Around Christmas time of 2009, I heard a beautiful sermon on WQXR radio (by Reverend Bruce from the Unitarian Church in NYC) on this very topic. He was speaking on the need to let go with gratitude and an open heart. He shared an experience, which was recorded by an observer in the Metro section of the New York Times newspaper. It went something like this:
A woman steps out of a subway car and starts to put her gloves back on when she realizes that she is missing one. She turns to look at the subway car and sees one lonely glove on the seat, the companion to the one she is holding in her hand. It is now too late to retrieve the glove from the train, so with a shrug of the shoulders she throws the glove that is in her hand back into the train as the doors close. She smiles and walks away.
Surrendering with gratitude and open heart.
My colleague, Dr. Mark Epstein (
Open to Desire
) talks about the difference between holding and clinging.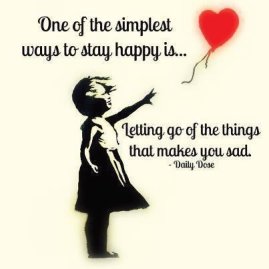 Holding is done with an open hand, so that whatever we hold near and dear to us is free to move and be. 
Clinging is more akin to gripping- tightening our hand around something so that it lies prisoner within our grasp.
Surrendering with gratitude and open heart requires an open hand. It requires a lightness of touch, a lightness of being. Openness rather than tightness. Think about what we do when we are afraid: we tense up, tighten up every muscle we have; we crouch, cross our arms, we close up. We grip and hold onto ourselves. We do this to try and protect ourselves. The question is: from what? Some fears, perhaps most fears, come from within, even if they are triggered by external events. 
In the case of letting go, it is our fear of not having, of looking into our own precipice, of losing our (known) sense of self, that makes us grip and hold on.Once we think of surrendering with an open heart we are immediately confronted with the fact that to do so requires an act of faith on our parts.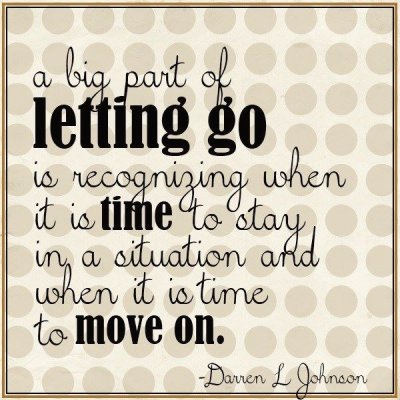 I do not mean of the religious or spiritual kind, I mean of the personal kind. A personal leap of faith. The woman on the train platform did exactly that when she threw her remaining glove into the train: she released her grip with a smile. Her act of faith exemplified in her release of the glove – in her belief that she could let go, and that she was better off throwing it  back into the train to join its companion, rather than bemoaning her loss, or worse – attempting to retrieve it. 
The act of  letting go creating  new possibilities of ownership (anyone need gloves?) as well as freedom. Can any of us disagree with that?
Surrendering has to do with acceptance. Acceptance of who we are, of all of those parts of ourselves that we spend much our lives not wanting to know, but nevertheless know of. Acceptance of  what we do, how we think, what we say, and of course, of what has happened to us in our lives. Acceptance of our limitations and our not so nice parts.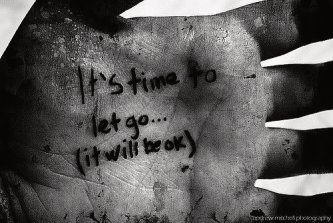 Years ago, a patient described what it took for her to stop smoking. "I finally surrendered" she said, "finally gave up in acceptance that I could no longer fill myself with smoke, while telling myself I was soothing myself". She surrendered to the idea that she wanted to live despite the inevitable suffering that might come as part of 
really 
living. This took accepting the fact that her addiction was not to nicotine, but to the way smoking filled her loneliness and cradled her agitation. Twenty years later, she tells me that she still believes that smoking is the best anti-depressant, and that when she gave it up, she had to deal with not being able to instantly fill that space up. She had to accept her loneliness and even her depression, and do something to address those. She had to let go.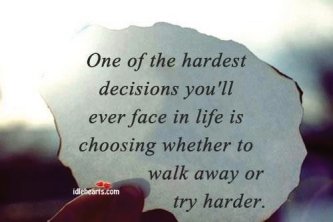 Like the man hanging on a limb in the precipice, most of us will do "anything" not to let go. We will bargain, get angry, deny, all part of the cycle that leads us to acceptance and surrendering. We all have much to learn from the woman on the train.
And one more, just because I think it's a cool list ...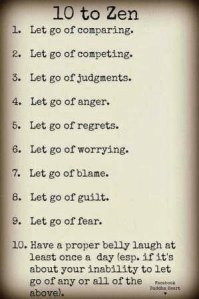 Christmas and New year are over, probably a busy stressful time for many and, whether we like it or not, a time to look back and look forward.
My first post of the year, just a light hearted glance at some of my favourite posts from Facebook and |tumblr over the past month ...
My personal Favourite is the one about the wolves: which one will you feed this year?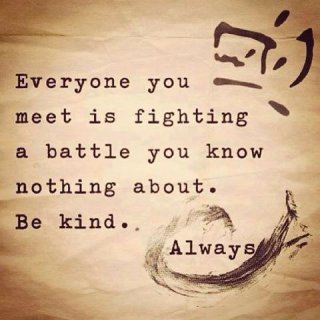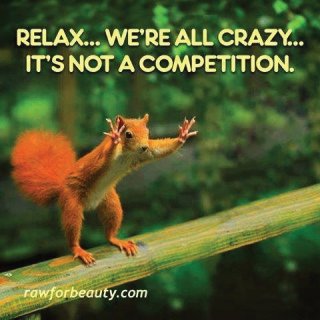 If you are struggling with the New Year, or any aspect of your life and feel you need help, support or counselling, maybe now is the time and this year is the year to find that support.
Gateway Counselling provides counselling and support, specialising in depression, anxiety and stress (which covers a huge amount of other things as well).
I also provide sessions using a variety of tools and chats to build life skills, maybe become more confident or talk through options. 
Please do take a look at my Home Page and consider finding the support you need.
And as always, look after yourself and take care.
Garry Rollins.
/