Shopping Cart
Your Cart is Empty
There was an error with PayPal
Click here to try again
Thank you for your business!
You should be receiving an order confirmation from Paypal shortly.
Exit Shopping Cart
Gateway Counselling and Therapy Leicester
Safe Professional Counselling and Therapy in Leicester
A Personal Reflection
"I get angry when I read drug manufacturer's definitions of depression and see drab commercials that burst with color as soon as the meds are introduced. Feeling sad, overwhelmed, hopeless, sleeping a lot… 
as long as we hold onto the definitions that are fed to us as truth without exploring them we can never see anything more than that. If it were that simple, maybe popping pills would help. But it is their very definition that blinds us to the truth of discovering what depression is. 
We feel like they really know us, with their simple definitions. We read each symptom on the checklist and say "Yes! that is exactly how I feel!". Upon further examination, you have to admit that this is only part of the picture. 
People are in so much pain, so desperate for immediate relief, needing someone to understand us in the worst way, that reading these simple sentences, seals the deal. We do not question if it is deeper than that, we believe that we can pop a pill and then all those symptoms will disappear. If it were that simple, why are more and more medications failing more and more people?  
According to the Abilify website, 2 out of 3 people taking an antidepressant still experienced unresolved symptoms of depression!
I have taken the typical definitions of depression and injected a little bit of deeper truth.
Depression is:
A suppressed level of functioning. At this level of functioning there is no hope that we will ever fulfill our dreams or become the people the voices in our heart tell us we are.
Inability to connect the dots between where you are to where you want to be. Mindlessly repeating patterns of thought and behavior that are not positive and do not get us to where we want to go.
Feeling "different" than others, and not in a good way. This comes from a skewed perspective on life and the world. This stems from our beliefs about ourselves and our perceived limitations. Our external environment is a direct reflection of our mental state of affairs.
Crying frequently/ feeling emotional pain- without clarity as to what that pain is all about. Because there is no clarity, there can be no outlet or resolution. Often unconsciously, we still see our experiences through the eyes of our childhood. When consciously we examine these things with our adult minds, we realize that they are much different than we have processed them. When we see truly reality, we can make sense of it, grieve and be angry if we need to, and then let it go.
Excessive fatigue and sleeping- to avoid the pain of life. This is our mind trying to protect itself from things it can't handle. Sleeping because of depression is dying without the commitment. I didn't kill myself, but I avoided life and all the things that are too painful for me in it (mentally or in circumstance), by sleeping. By examining the multitudes of reasons we find life's situations so painful, we can shed light on them and begin to heal.
Feeling overwhelmed and hopeless- inability to effectively clear up emotional pain and dysfunction. Our minds combine all of our past experiences as if it were a blender. The thick murky soup that results is how we define ourselves, how we react, how we embrace the future. It is this murky soup and our inability to sort through it that causes hopelessness and the feeling of being completely overwhelmed.
Less interest in activities- because we are carrying too much emotional weight and in too much pain (it is quite possible to be in complete emotional agony without even realizing it). Dysfunction comes from destructive methods of reacting to situations. Things that at surface value should be enjoyable are painful because of how we are processing them under the surface. Often our means of processing is not entirely conscious and so we must dig deeply to figure out why we are having this reaction.
Thoughts or attempts at suicide. Depression is unbearable, and the life it creates is hell. Feeling suicidal is not really about wanting to die. It is about wanting to be free. Free from pain. Because most people do not receive the help and support that they need, they do not realize they can have this freedom in their life, and so they sadly conclude that they must die to achieve it.
All of these symptoms are the things circling under the surface of the depression. It is all a vicious cycle, all of these symptoms feed each other and create more depression until the point where we lose all hope. 
Medication promises to treat these symptoms, but will never heal anything. What we need to do is dig below the surface, find the roots and work to dissolve them. As a result, all of the surface symptoms disappear. 
The more I think about how much medication I was on, and how strong all of the symptoms still were, the more I realize how amazing my mind truly is. It never stopped telling me, no matter how medicated, that something is really wrong under the surface. It didn't give up, until I listened to it. 

Feeling suicidal is not really about wanting to die. It is about wanting to be free."
Padhia Avocado.
What is it, I wonder, about our need to blame?
I have been thinking alot about this recently. In the news at the moment is a tragic real life event about a young four year old child who lost her life being attacked by a rescue dog. The mother, as I understand it, entered the room, tried desperately to get the dog off of her little girl, and had to kill the dog to do so. Her child still died.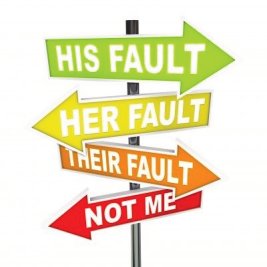 Unfortunately the response from the public, from us, is one of two reactions. One is of huge compassion, feeling for the mother, horror at what the child has gone through, grief at the loss of such a beautiful, innocent life. Many also feel compassion for the rescue dog, who must have suffered horribly under previous owners, and reacted to an unknown trigger which ended so tragically.
The second reaction is, of course, blame. Somebody has to be at fault. Did the child do something unintentionally to scare the dog? Was the dog merely vicious and attacked without provocation (it was, I believe, a mastiff, which has a reputation that clouds this issue in many people's eyes). What about the mother? Should she have got a rescue dog, or been more aware of the issues? Should she have left the child alone?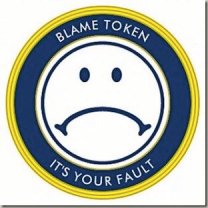 There is something inside us that has to find someone or something to blame. If we can do this, we can somehow find closure. It makes us feel better. 
But the truth is, blame doesn't matter as much as we think it does, and compassion matters far more than we often think. Compassion points us to the suffering of the child and the grief of the family and others. Compassion points us towards the rescue dog and what it must have endured at the hands of less loving people. 
Things happen. Good and bad. We, as always, have a choice. We can choose to blame, making ourselves feel better, somehow justified, right, without doing anything else. Or we can choose to show compassion, understanding, gentleness. 
This is true of tragic stories. It is true in our relationships with our parents, our partners, our children, even our friends and enemies. It is even true in our relationship with and view of ourselves. 
I choose compassion (even though I am not always good at it). It is a work in progress.
What will you choose?
Garry x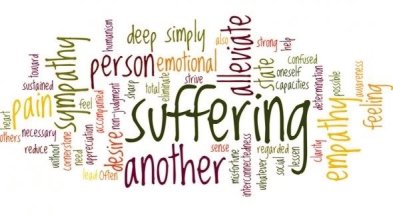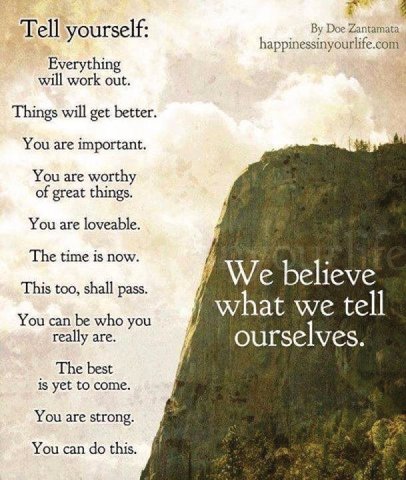 This, I think, is one of the most important points in counselling and therapy for people to grasp.
What we tell ourselves has a huge impact on the way we think, how we feel and what we do about our lives.
Even more so, the stories we tell ourselves and keep retelling ourselves have a huge impact ... those stories we also keep telling to other people to justify why we feel the way we do or why we do what we do.
Imagine ...
A person who constantly tells themselves they feel useless, convinces themselves they can't do something, reminds themselves of all the times they tried and something went wrong or others made fun of them, even tells others those stories as if in jest, but they're not really joking ...
What's going to happen to that person?
And what about the person who feels that life isn't worth living ...
They remember all the struggles, the pain and hurts which are incredibly real and actually happened, they have a list in their heads of every bad thing that happened, and probably a list of who was to blame for it. They may even have convinced themselves that they are to blame somewhere buried inside. They have a 'yes, but' for every time someone tries to convince them life is worth living, a story they recount as if to prove their point. They retell all those stories, not just to others but to themselves over and over again (and by default ignore all the reasons people give them for why life is worth living, because those reasons don't fit what they want to believe).
What is going to happen to that person.
And finally (for now) ...
What about the person who says ...
Things will get better (because they have to ...)
I am important (because I am alive and I am here ...)
This too will pass (because all things do if I can just persevere ...)
and so on.
What will happen to the person who remembers the times they succeeded (even though there were times when they failed), reminds their friends of the better times as well as the worst, chooses to look at the beauty in the world (even though there is plenty that is not beautiful).
It is not an easy path. It is easier (and often more popular) to look at the crap that happens to us (and let's face it, it happens to all of us and there is no shortage of examples)
But maybe it's time to let go of those stories and find better ones.
The choice, as always, is our own, yours and mine 
Regards,
Garry x
Pain Matters
"So often we try to make other people feel better by minimizing their pain, by telling them that it will get better (which it will) or that there are worse things in the world (which there are). 
But that's not what I actually needed. What I actually needed was for someone to tell me that  it hurt because it mattered. I have found this very useful to think about over the years, and I find that it is a lot easier and more bearable to be sad when you aren't constantly berating yourself for being sad."
/