Shopping Cart
Your Cart is Empty
There was an error with PayPal
Click here to try again
Thank you for your business!
You should be receiving an order confirmation from Paypal shortly.
Exit Shopping Cart
Gateway Counselling and Therapy Leicester
Safe Professional Counselling and Therapy in Leicester
In 2015 are there some things worth giving up?
Here are twenty possibilities (which one will you choose?) ...
Let go of Negative Attachments and Negative People ... you don't need them in your life.
Let go of Guilt : either repair whatever is making you feel guilty, or let it go
Let go of Negative Thinking ... has negative thinking about others got you what you want?
Let go of Self Criticism : let this be the year you start to build yourself up
Let go of Prejudice : negative assumptions about others only leads to resentment, bitterness and anger. 
Let go of compulsive thinking ... Maybe it is time to stop doing what you have always done
Let go of the need for approval : confidence comes from inside, not from others
Let go of Limiting Beliefs : self imposed limits and beliefs may be holding us back
Let go of Grudges : believe it or not, unforgiveness hurts us more than the other person
Let go of Procrastination : what do you want to begin in this next year. Do It.
Let go of Anxiety : not always easy, but is there really something to be afraid of?
Let go of Heartbreak ... don't keep on going over those obsessive thought. Time to live?
Let go of Bad Memories : those stories we keep on telling ourselves to justify how we feel 
Let go of Useless Things : Is our life cluttered with lots of things we don't need?
Let go of Bad Company : we are dragged down by the company we keep (French proverb)
Let go of the belief that we are a product of our past and cannot change
Let go of Job or Partner Identity : we are far far more than someone's partner or job role
Let go of Bad Habits : don't 'try' to give up. Decide to give up and do something else instead
Let go of Taking Things Personally : we, alone, decide who we are and who we are not
Let go of The Ticking Clock : don't be ruled by what always needs to be done before tomorrow
Well, there are quite a few suggestions.
What will you change in the New year (although there is no reason you have to wait until then)?
For myself, I don't have New Year resolutions, but I do take time over Christmas to reflect on what I want to change or move towards in the next year. Sometimes I succeed. Sometimes I don't, and that too is OK.
Next year, I would like to spend more time exploring, meeting new people, being less assertive and more gentle, building up my faith, and a few other things.
What will you change?
The following is my version of a post my brother sent to me recently about Mindfulness, originally posted on The Huffington Post and adapted by me:
Mindfulness isn't just something you practice during a 10-minute morning meditation session. It can be incorporated throughout your everyday life by simply paying a little more attention to your daily activities as you're performing them.
"Mindfulness starts to get really interesting when we can start to integrate it into everyday life. Remember, mindfulness means to be present, in the moment. And if you can do it sitting on a chair, then why not while out shopping, drinking a cup of tea, eating your food, holding the baby, working at the computer or having a chat with a friend? All of these are opportunities to apply mindfulness, to be aware, to stay in the present moment."



Many great artists, thinkers, writers and other creative workers -- from David Lynch to Mario Batali to Sandra Oh -- have said that meditation helps them to access their most creative state of mind. 
If you want to become more mindful but are struggling with a silent meditation practice, try engaging in your favorite creative practice, whether it's baking, doodling, or singing in the shower, and see how your thoughts quiet down as you get into a state of flow.
Our breath is a barometer for our overall physical and mental state -- and it's also the foundation of mindfulness. As mindful people know, calming the breath is the key to calming the mind.
"So the object of your mindfulness is your breath, and you just focus your attention on it. Breathing in, this is my in-breath. Breathing out, this is my out-breath. When you do that, the mental discourse will stop. You don't think anymore. You don't have to make an effort to stop your thinking; you bring your attention to your in-breath and the mental discourse just stops. That is the miracle of the practice. You don't think of the past anymore. You don't think of the future. You don't think of your projects, because you are focusing your attention, your mindfulness, on your breath."  (See my own page on

Mindfulness

for more about breathing)






Multitasking is the enemy of focus -- many of us spend our days in a state of divided attention and near-constant multitasking, and it keeps us from truly living in the present. 
"Rather than divide our attention, it is far more effective to take frequent breaks between intervals of sustained, one-pointed attention," 
The mindful way, Salzberg suggests, is to focus on one task completely for a given period of time, and then take a break before continuing or moving on to another task.
Mindful people have a healthy relationship with their mobile devices and know when to use them and when to turn them off or leave them alone. 
This might mean making a point never to start or end the day checking email or maybe even keeping their smartphones in a separate room while they're sleeping, or choosing to unplug on Saturdays or every time they go on vacation. Especially important, not using phones, checking texts or playing games when you really should be listening and chatting to the other people in the room who came to see you!
Those who mindfully interact with others look up from their screens and into the eyes of whomever they're interacting with, and in doing so, develop and maintain stronger connections in all their relationships.
Excessive preoccupation with happiness can actually be counterproductive, leading to an unhealthy attitude towards negative emotions and experiences. 
Mindful people don't try to avoid negative emotions or always look on the bright side -- rather, accepting both positive and negative emotions and letting different feelings coexist is a key component of remaining even-keeled and coping with life's challenges in a mindful way.
As Mother Teresa put it, "Be happy in the moment, that's enough. Each moment is all we need, not more."
(Interestingly, I think we often stop others from crying, not to make them feel better, but to make ourselves feel less uncomfortable. Good friends cry with those who cry).
So often, we shovel food into our mouths without paying any attention to what we're eating and whether we feel full. We ignore discomfort, hoping it will go away, even when it clearly won't. Some use alcohol, drugs, even porn, to numb what they feel.
Mindful people make a practice of listening to their bodies -- and they consciously nourish themselves with healthy foods, prepared and eaten with care. But mindfulness is all about taking your time, paying attention to the moment, focus fully on what is happening and how they physically feel.
I believe that each of us know exactly what we do that is unhealthy and we do it anyway. Maybe it is time to embrace a more mindful and healthy way of living.
A critical factor in cultivating a mindful personality is refusing to get wrapped up and carried away by the constant tug of the emotions. If you can remember to laugh and keep an even keep through the ups and downs, then you've come a long way already in mastering the art of mindfulness.
While mindfulness is all about focusing on the present moment, mind-wandering also serves an important psychological function, and conscientious people are able to find the happy medium between these two ways of thinking. 
I am not a huge Michael Jackson fan, but please don't hold that against me, because I think that the following is one of the most amazing videos and songs ever written, especially from a 'personal change' point of view. Enjoy ...
I friend gave me an article in The Metro this week about Life Coach, Michael Serwa, and the following impressed me so much I thought it was worth sharing (edited and expanded slightly) :
Ten Things That Stop You From Being Amazing:
1. You worry too much about what other people will think.
    Other people are too busy worrying about what you think of them to be thinking about what you     are doing. Or to use Will Smith's words: 'stop letting people who put you down control so much       of your life.'
2. You are in a career you don't really like:
    Seriously, change it. Do you really want to look back from your deathbed and see yourself in a       career you didn't really like? Take small positive steps towards what you really enjoy doing.
3. You try to do everything yourself:
     Don't. Learn to delegate or prioritise as much as you can so that you can free up time to do           things that you really enjoy doing (and then do them)
4. You wait for something or someone to motivate you:
    Stop waiting for someone else. Find something that excites you, something you enjoy doing.           That is what really motivates you. (if you are stuck, work out what it is that you do instead of       the things you should be doing but don't want to). The reality is, no-one else can motivate you       to do something you don't want to do.
5. People around you bring you down:
    On average we have five people we spend most of our time with. Choose those people wisely.         No-one needs negative nellies in our life. Challenge them about it or spend less time with them.       Also, perhaps, work out why you gravitate towards people who are bringing you down.
6. You put other people's happiness before your own:
    Work out what makes you happy, what makes you smile, and do more of that. Your happiness         will be contagious and other people will be attracted to it. You can still help others, but not at       the expense of your own happiness. 
7. You don't know where you are going:
    You have no sense of direction, no purpose, no reason to get out of bed in the morning. What is     it that you want to do. Where is it that you want to go. Set goals. Take actions.
8. You blame other people and circumstances for where you are:
    The truth is, life can be very unfair. But this is your life. Take responsibility for it and, basically,       bluntly, stop moaning about it. You will feel better if you do something about the parts of your       life that you are not happy about. Then you wont need to moan about it.
9. You are living with regret about the past or unrealistic expectations about the future:
    You cannot change the past, so grieve for it, cry if you need to and then move on. You don't         need to forget it, but don't let it keep you in the past. And be realistic about the future.               Especially, there is no Santa Claus, no magical solution to your problems. Don't wait for a lottery     win before you decide to do something with your future. Act Now.
10. You are your own worst critic
      How many reasons do you have in your own head for why you can't do something. Stop                 criticising yourself (why do that to yourself?). Stop comparing yourself to others (they may           appear confidant, but they struggle just as you do). Most of all, Be Kind To Yourself.
I hope this helps. I found it very useful. But please, I beg you, don't use this list to put yourself down. Use it to motivate yourself. and I stand on the last words of point ten:
Most of all, Be Kind To Yourself.
Regards,
Garry.
A little girl had been shopping with her Mom in Wal-Mart. She must have been 6 years old, this beautiful red haired, freckle faced image of innocence.

It was pouring outside. The kind of rain that gushes over the top of rain gutters, so much in a hurry to hit the earth it has no time to flow down the spout.. We all stood there, under the awning, just inside the door of the Wal-Mart. We waited, some patiently, others irritated because nature messed up their hurried day. 

I am always mesmerized by rainfall. I got lost in the sound and sight of the heavens washing away the dirt and dust of the world. Memories of running, splashing so carefree as a child came pouring in as a welcome reprieve from the worries of my day. 

Her little voice was so sweet as it broke the hypnotic trance we were all caught in,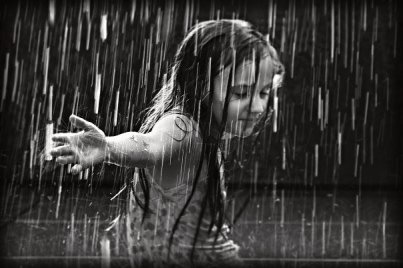 'Mom let's run through the rain,' She said. 
'What?' Mom asked. 
'Let's run through the rain!' She repeated. 
'No, honey. We'll wait until it slows down a bit,' Mom replied. 
This young child waited a minute and repeated: 'Mom, let's run through the rain..' 
'We'll get soaked if we do,' Mom said. 
'No, we won't, Mom. That's not what you said this morning,' the young girl said as she tugged at her Mom's arm. 
'This morning? When did I say we could run through the rain and not get wet?' 
'Don't you remember? When you were talking to Daddy about his cancer, you said, ' If God can get us through this, He can get us through anything! ' 
The entire crowd stopped dead silent.. I swear you couldn't hear anything but the rain.. We all stood silently. No one left. Mom paused and thought for a moment about what she would say. 
Now some would laugh it off and scold her for being silly. Some might even ignore what was said. But this was a moment of affirmation in a young child's life. A time when innocent trust can be nurtured so that it will bloom into faith. 
'Honey, you are absolutely right. Let's run through the rain. If GOD let's us get wet, well maybe we just need washing,' Mom said. 
Then off they ran. We all stood watching, smiling and laughing as they darted past the cars and yes, through the puddles. They got soaked. 
They were followed by a few who screamed and laughed like children all the way to their cars. And yes, I did. I ran. I got wet. I needed washing. 
Circumstances or people can take away your material possessions, they can take away your money, and they can take away your health. But no one can ever take away your precious memories...So, don't forget to make time and take the opportunities to make memories every day. 
I HOPE YOU STILL TAKE THE TIME TO RUN THROUGH THE RAIN. 
Christmas and New year are over, probably a busy stressful time for many and, whether we like it or not, a time to look back and look forward.
My first post of the year, just a light hearted glance at some of my favourite posts from Facebook and |tumblr over the past month ...
My personal Favourite is the one about the wolves: which one will you feed this year?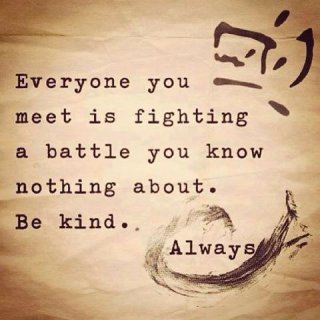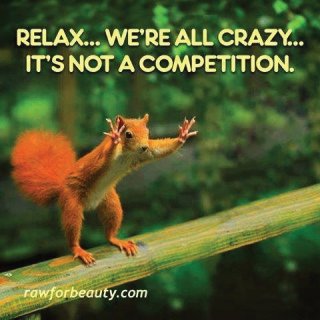 If you are struggling with the New Year, or any aspect of your life and feel you need help, support or counselling, maybe now is the time and this year is the year to find that support.
Gateway Counselling provides counselling and support, specialising in depression, anxiety and stress (which covers a huge amount of other things as well).
I also provide sessions using a variety of tools and chats to build life skills, maybe become more confident or talk through options. 
Please do take a look at my Home Page and consider finding the support you need.
And as always, look after yourself and take care.
Garry Rollins.
/